Upcoming Late May & June 2022 Events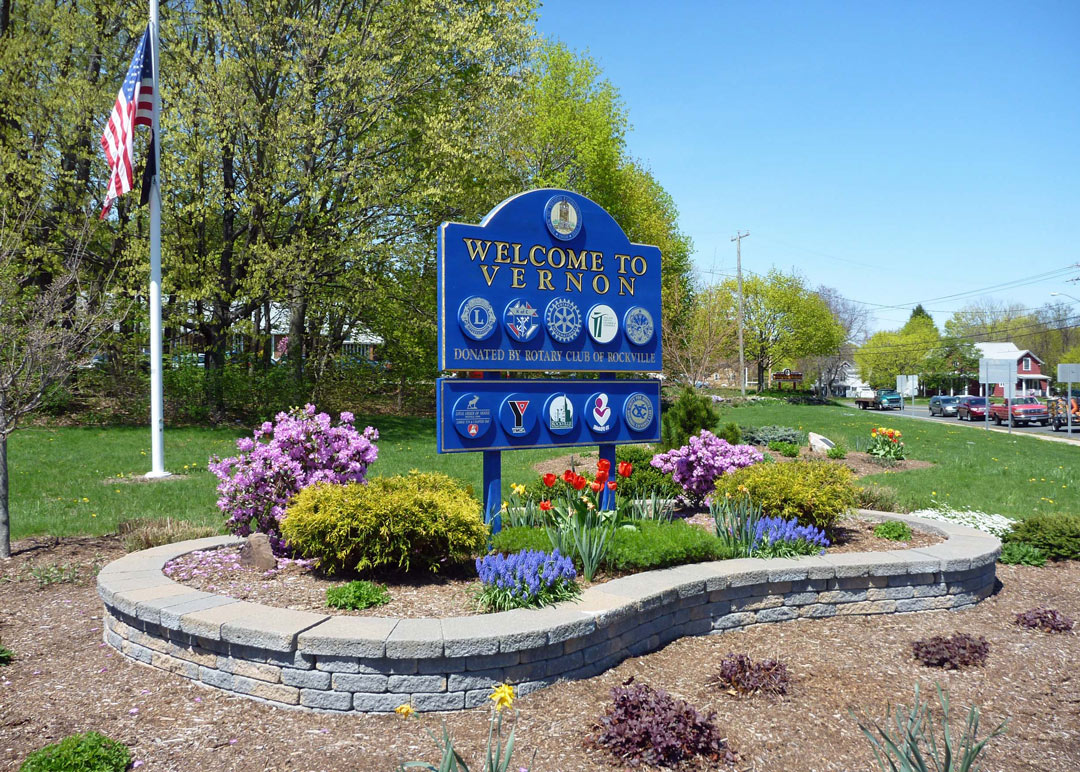 Spring at the Vernon Garden Club's
Lafayette Square Welcome Garden.
This Spring has been very busy with multiple programs and activities to choose from each weekend. To help you plan late May and June this newsletter highlights eight events through the end of June, including a return of CT Open House Day on June 11. There are interesting hikes, talks, a concert, a play and a parade - events for families and adults.
A complete list of 2022 events is shown on the Vernon Volunteers' Collaborative Events page. Also check the Vernon Town Calendar.
Most of the organizations sponsoring these events are members of the Vernon Volunteers' Collaborative. You can learn more about VVC on their website. Check organizer websites for any last minute changes.
If you would like advance notice by email of this type of event please join our MeetUp Group. We also post reminders on our Facebook Page.
Click on images for a larger view.
» Go to The Tankerhoosen website.
Jon Roe   
---
Bobcats
THURSDAY, MAY 26, 7 P.M.: Join Rockville Public Library for a presentation by PAUL COLBURN focusing on the natural history of bobcats in Connecticut, an overview of bobcat habitat, diet, behavior, reproduction, and current research efforts. Bobcat artifacts will be shared with the audience. Mountain lions will be discussed as well.
Paul Colburn is a 2015 graduate of the Master Wildlife Conservationist Program (MWCP) and a certified Master Wildlife Conservationist. The MWCP is a Connecticut Department of Energy & Environmental Protection adult education program that trains volunteers in the fields of wildlife management, natural history and interpretation.
This is an in-person program and registration is required. Rockville Public Library is located at 52 Union Street, Vernon, CT.
---
A Doll's House, Part 2
MAY 27 TO JUNE 5: The Dionysus Theatre Company begins their 2022 season with Lucas Hnath's play "A Doll's House Part 2" at Arts Center East. (You don't have to be familiar with Part 1 to enjoy Part 2. This show stands on its own.) This play follows Nora as she returns to the home she left 15 years earlier and the family she left behind.
We are fortunate to have this theater company in Vernon offering consistently high quality productions.
Tickets: $18 General Admission, $15 for ACE Members/Students/Seniors.
The play begins Friday, May 27 and runs two weekends through Sunday, June 5. Times vary. Reserve tickets online or call (860) 871-8222.
ACE is located at 709 Hartford Turnpike, Vernon.
---
Talcottville Memorial Day Parade
SUNDAY, MAY 29, 9 A.M.: Each Memorial Day the town of Vernon has two parades. The primary parade is held in Rockville on Monday, but on Sunday one of the state's shortest parades takes place in Talcottville.
Marchers begin at the Talcottville Congregational Church and proceed to the Civil War monument in the cemetery where ceremonies are held. The parade usually includes Vernon's mayor and council members as well as the fire and police departments, scout groups and veterans.
Mount Hope Cemetery is the home of Vernon's earliest Civil War monument, an obelisk at the highest point in the cemetery. The cemetery was dedicated in 1867 and the memorial monument was dedicated two years later in 1869. The memorial is engraved with the names of those from the area who gave their lives in the war.
Everyone is welcome to march in the parade and it's short enough for the kids. Assemble in the church parking lot at 10 Elm Hill Road in Talcottville at 8:30 a.m.
On Monday, May 30 Vernon's Memorial Day Parade will be held in Rockville.
---
CT Trails Day: Risley Park Hike
SUNDAY, JUNE 5, 1-3 P.M.: As part of CT Trails Day the Manchester Land Conservation Trust will lead a 2.5-mile hike at Risley Park; the Trust's largest parcel of protected land, spanning 155.3 acres in Vernon and Bolton, and hosts a section of the Shenipsit Trail, part of the Blue Trail system of the Connecticut Forest and Park Association. The property includes several trails, a former apple orchard, farmland, pond, dam, and meadow.
Park at the lot on Lake Street, Vernon, across from Amy Drive -- GPS 366 Lake Street.
The hike will be led by SUSAN BARLOW. For Questions contact Susan at (860) 643-9776 or [email protected]
---
CT Open House Day
SATURDAY, JUNE 11 is the 18th annual Connecticut Open House Day sponsored by the CT Department of Culture and Tourism. This one-day statewide event is designed to showcase Connecticut's diverse world of history, art, and tourism.
Three venues will be participating in Vernon this year - The New England Civil War Museum, Strong Family Farm, and Valley Falls Farm.
Details on each of the sites participating can be found on a separate web page.
» Go to the Vernon Open House Day page.
---
The Vernon Chorale's "A Chorale Tapestry"
SATURDAY, JUNE 11, 7:30 P.M.: The Vernon Chorale is thrilled to bring you songs of Peace, Hope, and Love.
The Vernon Chorale's Conducting Fellow, KIRBY STALLEY, directs his first live concert since the pandemic began. Wholly planned and executed by Stalley, "A Choral Tapestry" includes the entire Chorale performing We Remember Them by Susan Labarr, and i carry your heart with me by David Dickau. Soloists and small ensembles will also entertain in a concert that touches the intangible aspects of the human experience.
This concert will be held at St. John's Episcopal Church, 523 Hartford Turnpike, Vernon, CT. The cost is $20 for adults and $15 for seniors and students.
Tickets can be purchased online, at Arts Center East, 709 Hartford Turnpike, Vernon, CT, or at the door.
» Learn more or purchase tickets.
---
A Newspaper's View of Progressive-Era Rockville, 1911-1913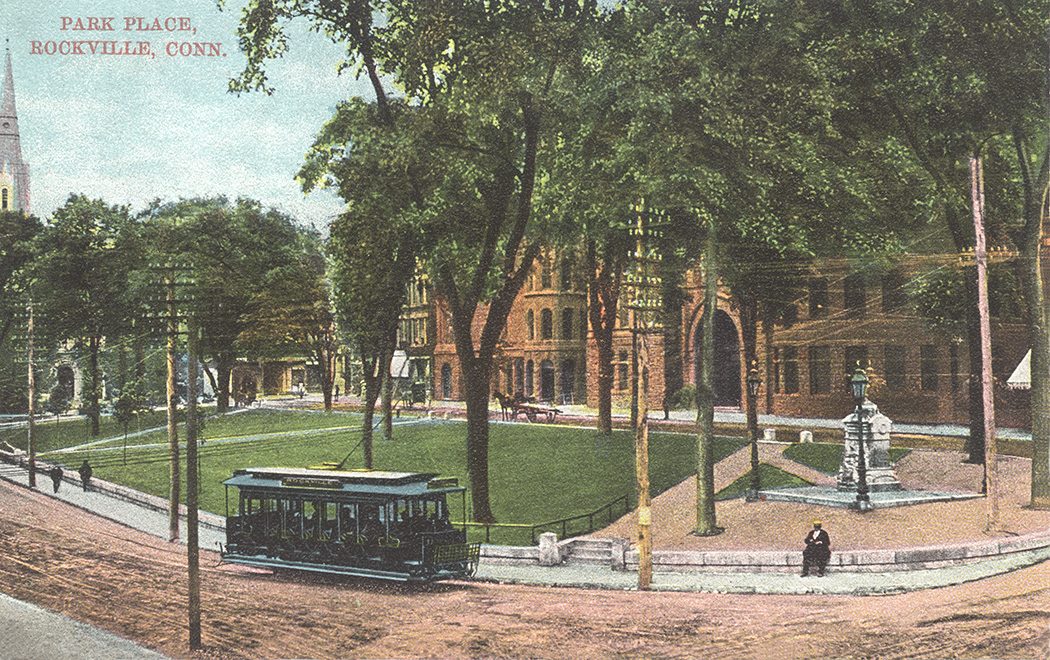 Early 1900's Park Place.
SUNDAY, JUNE 12, 2-3:30 P.M.: The Vernon Historical Society will host a program titled "Ripped from the Headlines: A Newspaper's View of Progressive-Era Rockville, 1911-1913" presented by local resident DR. DONALD W. ROGERS.
Dr. Rogers earned a Ph.D. in U.S. history at the University of Wisconsin-Madison (1983) and was adjunct lecturer in history at Central Connecticut State University and other institutions from 1992 until his retirement in 2019. He is currently engaged in a project to write about Connecticut during the Progressive Era.
Dr. Roger's will give you a sense of what was happening in Rockville during this period through ten glimpses of Rockville life at the time – a mill owner's society ball, a saloon keeper's retirement, woman suffrage lectures, a mill worker strike, city politics and trolley accidents taken from stories in the Rockville Journal.
The program is free and open to the public. The Vernon Historical Society is located at 734 Hartford Turnpike in Vernon.
---
David Hayes Sculpture Fields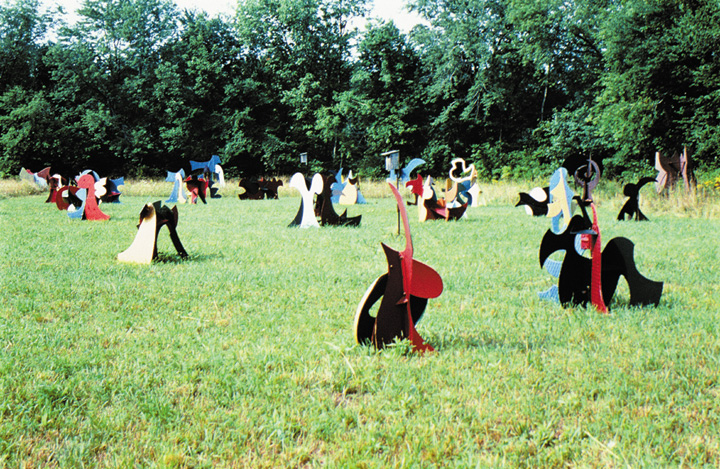 One of David Hayes' Sculpture Fields.
THURS., JUNE 16 & SAT. JUNE 18: Learn about and tour the astounding David Hayes Sculpture Fields in Coventry. The family home, Stonewalls, is listed on the CT Register of Historic Places. The David Hayes Art Foundation displays his completed works in an old orchard, by the pond, in two large hay fields, and behind the house and barn. They are in or near informal gardens of herbs, wildflowers and ferns, a sunflower patch, roses, and annuals planted by the artist's wife Julia.
David Hayes, a Manchester, CT native, was a world-class sculptor. His works are on display in art museums across the country, including the Museum of Modern Art in New York. Hayes and his young family moved to Paris, where they lived for more than a decade and where Hayes studied with the famous sculptor, Alexander Calder. When the family returned to the states in the 1970s, they moved into an old farmhouse in Coventry, the place where Hayes began to create his Sculpture Fields.
Thursday evening at 7 p.m. at Arts Center East ANN BONNEY will lead a lecture/discussion on the life and work of Hayes. On Saturday at 10 a.m. we will meet at the David Hayes Sculpture Fields in Coventry.
---
Coming Up This Fall
To receive the next newsletter Join our Mailing List.
September 24 - Talcottville, Talcott Ravine and Vernon Rail Trail walk
September 25 - Arts Center East presents "Poetry Rocks!"
October 1-2 - Revolutionary War Reenactment at Heritage Farm in Bolton
October 16 - Northern CT Land Trust fall foliage hike at Valley Falls Park
October 16 - The Band of Steady Habits returns to the Vernon Historical Society
October 22 - Strong Family Farm's Annual Autumn Harvest Festival