October 2023 Activities In Vernon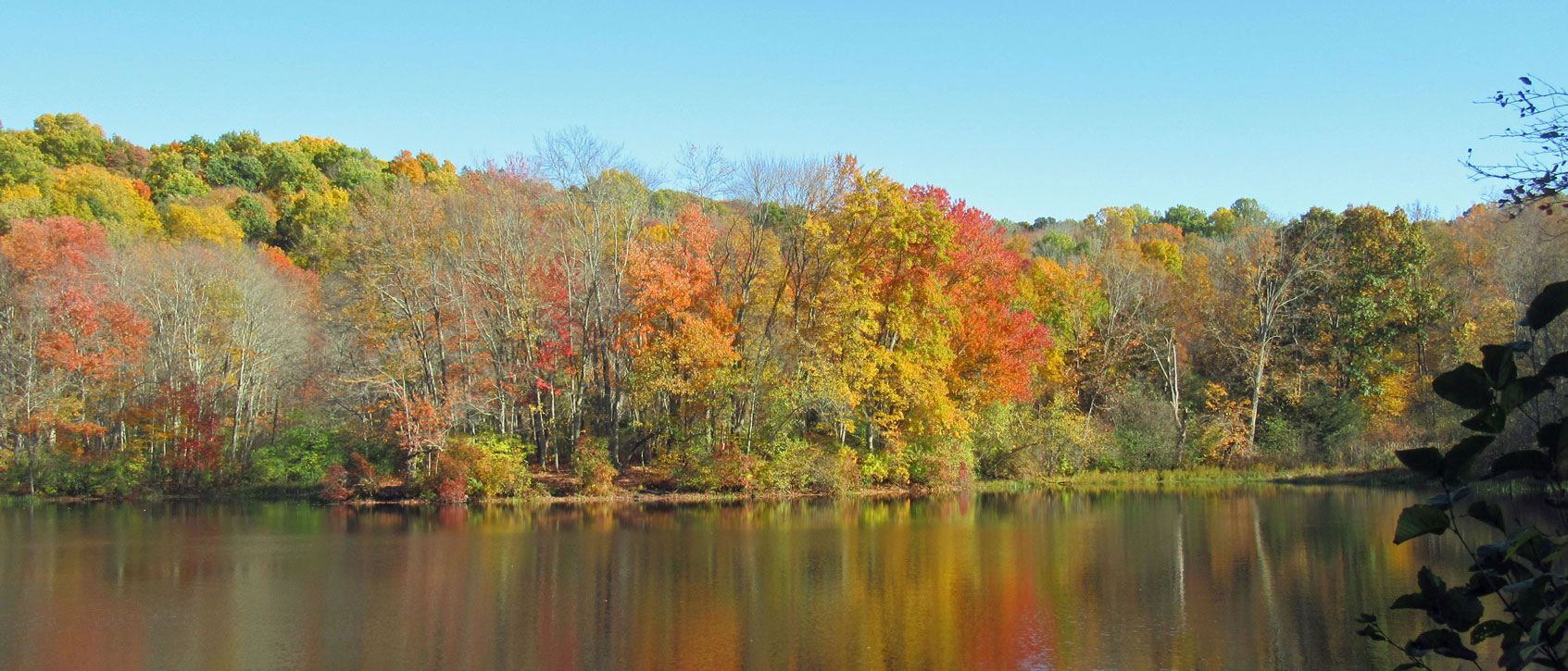 Autumn at Valley Falls Pond.
September was a busy month in Vernon, but with a lot of rain. October has more events available to enjoy and let's hope we get more sunny weekends.
There is enough variety for you to explore many things inside and outdoors including two plays - one for the young and the other for adults, a Revolutionary War encampment, the Seniorhood Fair, a hike at Valley Falls, several programs on history and a chance to explore and learn about our streams. And capping it off is our annual Strong Family Farm Harvest Festival and Scarecrow contest.
Many of the organizations sponsoring events are members of the Vernon Volunteers' Collaborative. Learn more about VVC on their website. If you would like advanced notice by email of this type of event please join their MeetUp Group. You will also find upcoming events listed on the VVC website under the 'Events' tab. Some of the 'Learn more' links below take you to MeetUp pages.
You can also visit our Tankerhoosen website and 'Like' our Facebook page.
Click on images for a larger view.
Jon Roe   
---
The Miraculous Journey of Edward Tulane
FRIDAY & SATURDAY, OCTOBER 6 & 7: Evergreen Family Theatre, The Rockville Public Library and Arts Center East are joining together to bring "The Miraculous Journey of Edward Tulane" performance to Vernon.
Edward Tulane is a porcelain toy rabbit. For his owner, Abilene, he is a beloved toy, but the rabbit is vain and only interested in himself. In an accident, Edward is cast to sea. This is where his real journey begins as he is welcomed into to the lives of his many new owners. Through this heartwarming journey, Edward learns about love, loss, kindness and compassion.
Arts Center East is bringing in local artists to lead in the creation of crafts immediately before the performance. Children will create their very own craft to help light up the sky, and (should they choose) their work will be on display at Arts Center East.
There will be two shows in the upper parking lot of the library (inside in case of bad weather): at 7 p.m. on Friday, Oct. 6, and 2 p.m. on Saturday, Oct. 7. Seating, crafts, and light refreshments begin 1 hour before each show. Everyone is welcome to join!
Tickets are free thanks to the support of the Vernon Greater Together Community Fund and the Hartford Foundation for Public Giving. There is a suggested donation of $10 to ensure that events like this can continue for years to come. The Rockville Public Library is located at 52 Union Street in Rockville.
---
Dionysus Theatre: Seder
OCTOBER 6 - 22: The Dionysus Theatre Company presents SARAH GANCHER'S play "Seder" at their new location in the Tolland Industrial Park.
In twenty-first century Budapest the old headquarters of the Hungarian KGB has reopened as a museum dedicated to Communist atrocities. Retired typist Erzsike is eager to visit her old work place. That is, until she comes face to face with her own photograph on the museum's Wall of Murderers and learns her estranged daughter put it there. As Erzsike and her family wrestle with their history, deep secrets are revealed, big questions are raised, and the moral and political waters are muddied. Can Erzsike exonerate herself?
Set during a secular Jewish family's first-ever Passover seder, "Seder" is an intimate epic about how one Hungarian woman survived the 20th century, from the darkest days of Stalinism to the fall of the Soviet Union and beyond. Contains adult theme and language
Tickets: $22. The play begins Friday, October 6 and runs two weekends through Sunday, October 22. Times vary. The theater is located at 45 Industrial Park Road West Suite J., in Tolland just over the Vernon town line on Route 30.
---
Bolton Living History Weekend
SATURDAY & SUNDAY, OCTOBER 7 & 8.: The French are coming. In 1781, Rochambeau's troops - on their way to meet General Washington and his Continental Army - camped in Bolton, CT at what is now Bolton Heritage Farm on Center Road. This was known as Camp Site Number Five. In a continuation of Bolton's 300th anniversary, the Heritage Farm Commission has teamed with Le Regiment Bourbonnais to host a living history weekend of this encampment.
This event will portray a campsite of Continental and French forces on the march. The army is encamped in friendly territory, so the mood is relaxed. The stop gives the troops time to resupply, make necessary repairs, and prepare for the rest of the march. Local tradespeople and town folk come to offer goods and services.
This event is free to the public and offers a glimpse to what a Revolutionary encampment would have been like. Parking areas will be marked and on the street.
Saturday, Oct. 7th 10 a.m. to 6:30 p.m. & Sunday, Oct. 8th 10 a.m. to 3 p.m.
Bolton Heritage Farm is located at 266 Bolton Center Rd.
---
NCLT: Valley Falls Fall Foliage Hike
SUNDAY, OCTOBER 15, 9 A.M.: The Northern Connecticut Land Trust (NCLT) leads this Fall foliage hike along Railroad Brook gorge in Vernon.
Hike thru NCLT's Andrew Webster Knapp property to the Hop River Rail-Trail, then up to the ridge overlooking Valley Falls Park and Railroad Brook for some beautiful Autumn scenery.
This free hike is fairly challenging with steep slopes. Meet at the Valley Falls parking lot off Valley Falls Road. Call KARL at (860) 649-4949 for further information.
---
VHS: Tolland County Agricultural Center
SUNDAY, OCTOBER 15, 2-4 P.M.: Join the Vernon Historical Society at the Tolland County Agricultural Center (TCAC) to embark on an historical journey with us, delving into the roots of this agricultural cornerstone.
After a brief business meeting, BECKY PERSON, a second-generation lifetime member of the TCAC, will provide an informative presentation on its history with historical photos, newspaper articles, and other items that document TCAC's history.
After the program, weather permitting, we'll embark on a guided walking tour of the TCAC's property.
The program is free and open to the public. TCAC is located at 24 Hyde Avenue in Vernon.
---
VGC: How To Care For Your Bonsai
MONDAY, OCTOBER 16, 7-8:30 P.M.: The Vernon Garden Club is hosting VGC member RON ABRAHAMS who will discuss the different types of bonsai.
Included in the talk will be the importance of trimming, wiring, watering and repotting.
The program will be held at the First Congregational Church of Vernon, 695 Hartford Turnpike in Vernon. For details call (860) 926-4332. Guests are always welcome.
---
Tolland County Seniorhood Fair
Saturday, OCTOBER 21, 9:30 A.M.-2 P.M.: The Tolland County Multidisciplinary Team (TCMT) Seniorhood Fair offers seniors, adults, and caregivers ways to plan and enhance their 'seniorhood' years through workshops, demonstrations, exhibits, and resources.
Join us at our 4th Tolland County Seniorhood Resource Fair. This is a free educational fair for seniors, their caregivers, and those adults approaching their senior years. The purpose is to provide information that enhances seniorhood health and lifestyles. The fair will offer free presentations and workshops. Two exhibition areas will feature local service providers and organizations. The exhibits will showcase a variety of public and private services, available in the local community, which focus on the lifestyle needs of our growing senior population.
Free lunch to the first 300 attendees.
The event is free and held at Vernon Center Middle School, 777 Hartford Turnpike in Vernon.
---
Strong Family Farm Harvest Festival
SUNDAY, OCTOBER 22, 10 A.M.-3 P.M.: The Strong Family Farm's annual festival will include children's activities, petting zoo, crafters, food trucks, live music, canning demonstration, announcement of results of the farm's annual Scarecrow Contest, and a farewell to the farm's chickens (from its successful, summer Adopt-a-chicken program). The chickens will become laying hens at another farm.
Food will be offered for sale, including snacks, donuts and apple.
This year's Harvest Festival is on track to be our best attended yet. We anticipate over 1,000 visitors over the course of the day. We may be small, but we are big on contributing to our communities.
Strong Family Farm is located at 274 West Street in Vernon. Limited parking is available in the farm field from the entrance on Peterson Road for a donation of $5 (if the field is dry). It is also available on side streets and at Center Road School with an opening in the corner fence by the training station.
---
Riffle Bioassessment By Volunteers
SATURDAY, OCTOBER 28, 9 A.M.-1 P.M.: The Vernon Conservation Commission will sponsor the Riffle Bioassessment by Volunteers (RBV). Volunteers are needed to help with this investigation of water quality in the Tankerhoosen River watershed.
Participants will search for insects, worms and other small animals that live in riffles, or areas of fast moving water, along the brooks that feed the Tankerhoosen River. The variety and numbers of animals found will indicate the relative cleanliness and health of the river.
Volunteers will meet at 9 a.m. for an overview of the RBV program, followed by group field training. We will then split into teams to investigate predetermined survey sites. The project will be completed by 1 p.m. Wear knee high boots or hip boots, and you may bring waterproof gloves. Bring a water bottle, snacks and a cell phone.
No experience is necessary, but volunteers must be at least 18 years of age. Please pre-register by calling TOM OUELLETTE, Vernon RBV Coordinator, at (860) 965-6180.
» Learn more (scroll down page).
---
Coming Up In November and December
November 2 - Friends of Rockville Library's " Mark Twain Family"
November 2 - "The Yorktown Campaign In The Civil War" at the New England Civil War Museum
November 20 - Vernon Garden Club's "Create A Holiday Centerpiece"
November 25 & 26 - Vernon Historical Society's Holiday Craft Fair
December 2 - Arctic Splash At Valley Falls
December 2 - The Vernon Chorale's Christmas Concert
December 16 - Friends of Rockville Library's Cookie Sale
You can also visit our Tankerhoosen website and 'Like' our Facebook page.
To receive our next newsletter