Upcoming Early Autumn 2022 Events In Vernon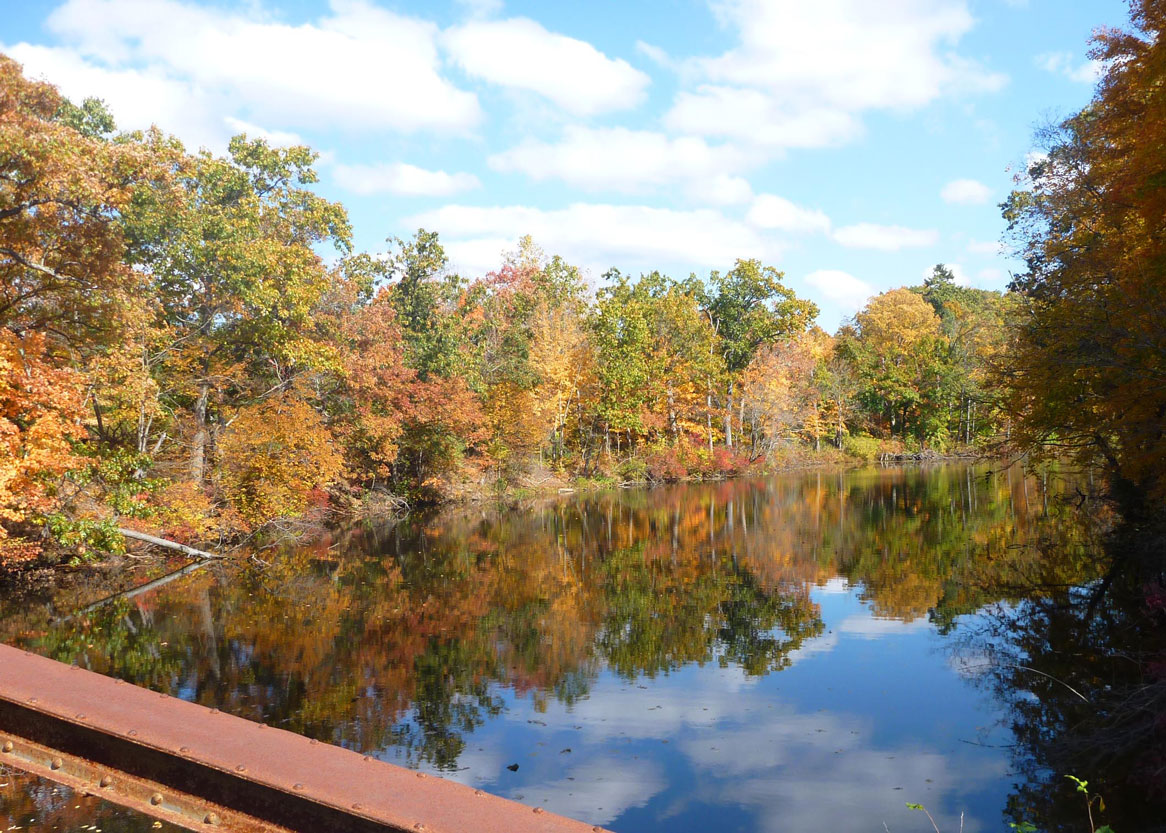 Autumn at Talcottville Pond.
After this Summer's heat, drought and humidity Autumn offers a variety of hikes and programs to get you and your family out of the house to enjoy the outdoors and explore town.
This September there are hikes that combine history and nature and opportunities to learn about our history and farms. Many of these will take you outdoors - the best place to be in Autumn in New England.
You might also try something new as there are two poetry readings this month. Vernon is more of an arts center than many people realize.
Fall is a busy season with a large number of events; too many for one newsletter. We'll send another newsletter in early October with details on October and November.
Many of the organizations sponsoring events are members of the Vernon Volunteers' Collaborative. Learn more about VVC on their website. If you would like advanced notice by email of this type of event please join our MeetUp Group. You will also find upcoming events listed on the VVC website under the 'Events' tab. Some of the 'Learn more' links below take you to MeetUp pages.
Click on images for a larger view.
Jon Roe   
---
Poetry Rocks
SUNDAY, SEPTEMBER 18, 3 p.m.: Arts Center East presents "Poetry Rocks!" Poetry In Person. Readers will include -
PAT MOTTOLA, CT Poetry Society President has published two books of poetry and her work has appeared in many journals. Former editor of Connecticut River Review, she also mentors Afghan women writers, and teaches art and poetry to senior citizens.
Artist and poet AARON CAYCEDO-KIMURA is the author of two books of poetry. His honors include a Robert Pinsky Global Fellowship in Poetry, a St. Botolph Club Foundation Emerging Artist Award in Literature, and nominations for the Pushcart Prize, Best of the Net, and Best New Poets anthologies.
Also featured is TOVAH OSLOVICH. They are a senior at Rockville High School and Greater Hartford Academy of the Arts Half-Day Program. Tovah is on the graphics team of Journey 75, and an apprentice at the Nook Farms Writing Collaborative with the Creative Youth Workforce.
There is also an Open Mic. Cost: $5 donation. ACE is located at 709 Hartford Turnpike, Vernon.
---
Gifts From The Garden
MONDAY, SEPTEMBER 19, 7-8:30 p.m.: Join the Vernon Garden Club for "Gifts From The Garden."
Members will bring for auction something each has created from our garden bounty this summer. Items may include flavored vinegars, seeds, plants, fresh or dried herbs, flowers, vegetables, or baked goods.
A lively auction presents a chance to renew friendships and begin a new VGC calendar year. Guests are always welcome at meetings.
The program will be held at the First Congregational Church of Vernon, 695 Hartford Turnpike in Vernon. For details call (860) 926-4332. Guests are always welcome.
---
Talcottville/Talcott Ravine Walk
SATURDAY, SEPTEMBER 24, 1-3 p.m.: This three-mile free walk begins in the historic Talcottville section of Vernon and includes a loop through the Northern CT Land Trust's Talcott Ravine and returns on the Hop River Rail Trail. Their first walk in this area since Covid arrived in 2019 and they are delighted to offer it again.
Learn about the historic village of Talcottville and visit the Talcott Ravine, Hop River Rail Trail, historic bridges and buildings, the remains of 19th century mills, an early Civil War monument, as well as enjoy the fall foliage.
GAIL FAHERTY from the Northern CT Land Trust; SUSAN BARLOW Manchester Town Historian and JON ROE, local historian and webmaster of the Tankerhoosen website will lead the hike.
Some of the terrain is steep and bumpy, so please wear sturdy sneakers or shoes. The hike will be held rain or shine, but extreme weather cancels. No dogs, please. Meet in the parking lot at the Talcottville Congregational Church, 10 Elm Hill Road, Vernon.
---
Valley Falls Cemeteries
SUNDAY, SEPTEMBER 25, 1 p.m.: Join the Friends of Valley Falls for their Annual Meeting and celebration of their 50th year. A presentation on "Valley Falls, Home To Vernon's Oldest & Newest Cemeteries" by JEAN LUDDY, Director of the Vernon Historical Society Museum, will tell us about her research into Vernon's oldest and newest burial grounds - each has a story to tell.
The Old Burial Ground, located on Bamforth Road has stones that reflect Puritan attitudes toward life and death and offers clues to the lives of our earliest residents. Valley Falls Cemetery – established in the late 20th century–serves a different type of community.
A short business meeting will precede the talk. Learn about the Heritage Center planned for the Stable which will include displays on the many colorful owners of the farm including rifle designer Christian Sharps, a phony Hungarian Count, and the Beach Family, who ran the farm and park as a gentleman's farm in the early 20th Century.
Everyone is welcome. Meet in the basement of the Red Barn at Valley Falls Farm, 345 Valley Falls Road in Vernon. Please park in the Valley Falls Park lot. Shuttles will be available.
---
Living History Open House Day
SATURDAY, OCTOBER 1, 10-3: Come celebrate the New England Civil War Museum's (NECWM) "Living History Open House Day." There will be interactive demonstrations, a photo station and museum tours.
The living history encampment on the park in front of Town Hall will include soldiers of the 8th and 14th Connecticut Volunteer Infantry Regiments and 2nd Connecticut Light Artillery, sailors of the US Naval Landing Party, and civilian impressions of period chaplains, state agents, and home front support.
There will be activities and displays for all ages to see and participate in, along with tours in the museum and library.
The New England Civil War Museum is located at 14 Park Place in Rockville.
---
Poetry Reading - Emily Hockaday
THURSDAY, OCTOBER 6, 6:30-7:30 p.m.: Rockville Public Library welcomes home poet EMILY HOCKADAY.
Emily Hockaday grew up in Vernon and graduated from Rockville High School in 2003. She received her MFA in Poetry from NYU and has published five chapbooks. Her first full-length collection debuts at Rockville Public Library with a reading, reception, and book signing.
She will be working with Vicky Nordlund's Creative Writing students at RHS earlier in the day. The themes of her new book, "Naming the Ghost" are motherhood, grief, and chronic illness and—braided through it all - love.
Registration for the event may be required. For more info, please go to their website or call (860) 875-5892. Rockville Public Library is located at 52 Union Street in Vernon.
---
Coming Up In October
We'll send another newsletter in early October with details on October and November.
October 16 - Northern CT Land Trust's 'Valley Falls Fall Foliage Hike.'
October 16 - Vernon Historical Society's 'Band of Steady Habits.'
October 17 - Vernon Garden Club's 'Edible Wild Plants.'
October 22 - Strong Family Farm's 'Harvest Festival.'
October 28-Nov. 6 - Arts Center East play, "Papermaker.'
October 30 - Vernon Historical Society's 'Maxwell House Program.'
You can also visit our Tankerhoosen website and 'Like' our Facebook page.
To receive the next newsletter