Upcoming Spring Events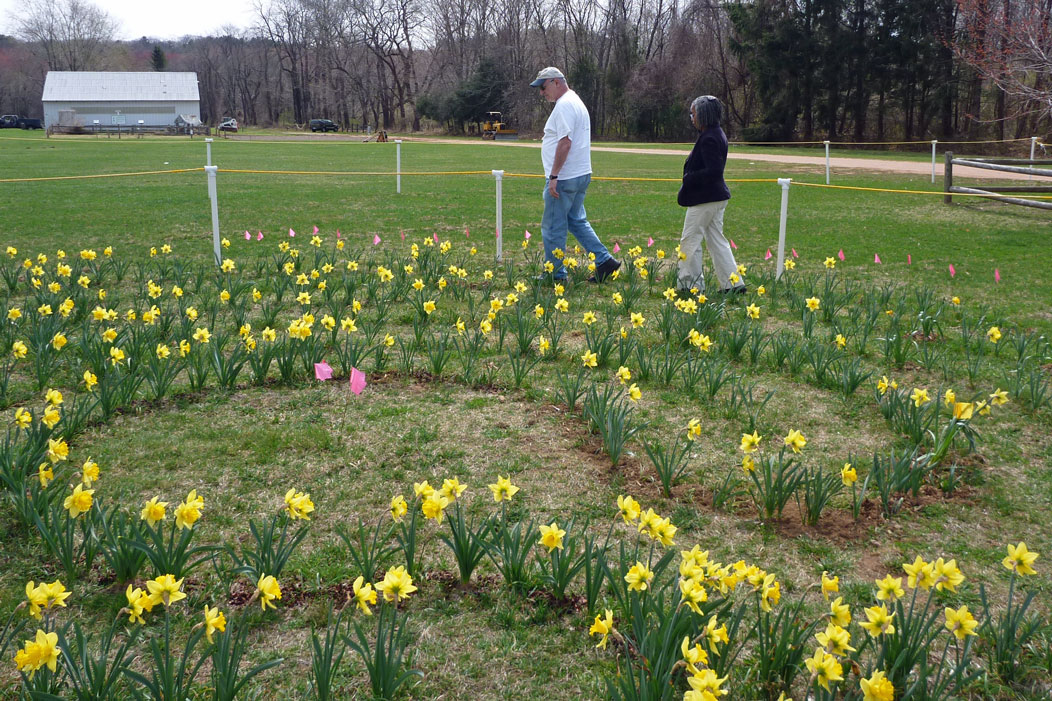 Walking the TCAC daffodil labyrinth.
With the arrival of Spring and the worst of Covid (hopefully) behind us we're happy to return to a near normal schedule of activities in Vernon. To help you plan April and May this email highlights eleven events through the end of May. They include an interesting variety with music, hikes, a road race, talks, and a book and plant sales. There are events for families and adults.
A complete list of 2022 events is shown on the Vernon Volunteers' Collaborative Events page. Also check the Vernon Town Calendar.
Most of the organizations sponsoring these events are members of the Vernon Volunteers' Collaborative. You can learn more about VVC on their website. Check organizers websites for any last minute changes.
If you would like advance notice by email of this type of event please join our MeetUp Group. We also send reminders of these events on our Facebook Page.
Click on images for a larger view.
» Go to The Tankerhoosen website.
Jon Roe   
---
The Vernon Chorale's 'Sing A Song' Concert
SATURDAY, APRIL 2, 7:30 P.M.: The Vernon Chorale is thrilled to bring you a performance which celebrates the joy that singing evokes in both singers and those who listen. You will leave Sing a Song energized, cheered and smiling.
The Vernon Chorale was established in 1980 to offer residents of Vernon and the greater Tri-Town area an opportunity to participate in a community chorus that prepares and performs a wide variety of choral music. This is the second of their three annual concerts in Vernon.
This concert will be held at St. Bernard Church, 25 St. Bernard Terrace, Rockville. The cost is $20 for adults and $15 for seniors and students.
The Vernon Chorale's last concert of the season, "A Chorale Tapestry" will be held Saturday, June 11 at St. John's Episcopal Church.
---
Charles Porter, Artist from Rockville
SUNDAY, APRIL 3, 3 P.M.: For the month of April Arts Center East is presenting an exhibit of contemporary Still Lifes alongside artwork and information about 19th and early 20th century Rockville artist, CHARLES ETHAN PORTER.
Charles Porter showed artistic talent at a young age. With his family's encouragement he went to art school. Pursuing his career took him to Hartford, New York and Paris, but he always returned to Rockville.
On April 3 Vernon Historical Society Museum Director JEAN LUDDY presents an overview of the mill city that Porter knew and will share research into how he was perceived in the community - as a notable artist, but also as a man of color.
Arts Center East is located at 709 Hartford Turnpike in Vernon.
---
Morgan In Ohio – Chaos & The Raider's Ruin
THURSDAY, APRIL 7, 7:30 P.M.: The New England Civil War Museum (NECWM) hosts DREW MCKINNEY telling the riveting story of JOHN HUNT MORGAN's raid with over 2,000 troopers into Ohio. He will be examining the engagements, skirmishes, the savagery and chaos of the raid on Ohio towns. The presentation will conclude with the train brawl and the raiders return home.
The first forty attendees will receive a copy of the book "History of the 86th Ohio Volunteer Infantry."
The program is free and will take place at the NECWM, 14 Park Place in Rockville.
---
Rachel Carson Speaks
MONDAY, APRIL 18, 7-8:30 p.m.: Join the Vernon Garden Club for "Rachel Carson Speaks."
"Silent Spring," published in 1962, outlined the death of animal life as we know it due to the indiscriminate use of pesticides. Carson fought hard and finally won the battle of being a woman scientist and taking on the big chemical corporations.
BEV YORK presents programs on local, Connecticut and national history. Her style incorporates interactive and visual materials to enhance her lectures. Bev tells the story of Rachel's quarrel with the manufacturers and today's urgent campaign against worldwide pollution and poisons.
Guests are always welcome at our meetings. Call (860) 926-4332 for details.
The program will be held at the First Congregational Church of Vernon, 695 Hartford Turnpike in Vernon.
---
Vernon Historical Society's Annual Book Sale
April 29-30 & May 1, 6-7: The Vernon Historical Society's annual book sale runs for two weekends.
There are 15,000 books carefully sorted into categories for an easy, pleasant shopping experience. The annual Book Sale features a wide selection of used hardcover and paperback books, DVDs, and books on CD. All of the hardcover and paperback fiction is alphabetized by the author's last name. Non-fiction books are separated by subject categories.
The Vernon Historical Society building, located at 734 Hartford Turnpike (Route 30) in Vernon, is handicapped accessible. Admission is free.
» For hours and to learn more.
---
Canoe/Kayak Paddle of Upper Bolton Lake
SATURDAY, MAY 7, 9 A.M.: The Northern Connecticut Land Trust sponsors this annual canoe and kayak exploration of Upper Bolton Lake, which in historical times was known for its cedar trees.
Take a leisurely tour of this pristine lake setting, perfect for bird-watching, photo opportunities, or just a quiet morning enjoying the outdoors. Please bring your own boat, paddles, and life vests.
Meet at the Upper Bolton Lake Boat Launch Area on Hatch Hill Road in Vernon for this free event. Call KARL at (860) 649-4949 for information.
---
Vernon Garden Club's Annual Plant Sale
SATURDAY, MAY 7, 8-11:30 A.M.: The Vernon Garden Club (VGC) holds their annual Plant Sale and fund raiser. Perennials for sun and shade, bulbs, herbs and unusual plants from members' own gardens will be available along with a gardener's white elephant table.
A great place and good prices to buy seasonal plants from the experts who know what grows well in Vernon. For members its a fun day to see what we've grown and share the bounty with our community. Each VGC member brings 10 or more perky, potted, and clearly labeled garden plants.
The sale will be held in the parking lot of the Vernon Center Middle School, 777 Hartford Turnpike. In the event of pouring rain the sale will be held on May 18. For information call (860) 926-4332
---
The Birds Of Valley Falls Park
SATURDAY, MAY 7, 7:30 A.M.: The Friends of Valley Falls are hosting DENISE ANAMANI, who will introduce you to the "Birds In The Park." The walk is a leisurely ramble, two hours or less.
Learn about the birds of Valley Falls led by biologist Denise, who works in the Department of Allied Health Science at UConn. Observe and identify the bluebirds and other native – and some migrating – species found in their various habitats at the park. Bring your bird apps and binoculars.
Free. Meet at the Valley Falls Park gazebo, 350 Valley Falls Road in Vernon.
---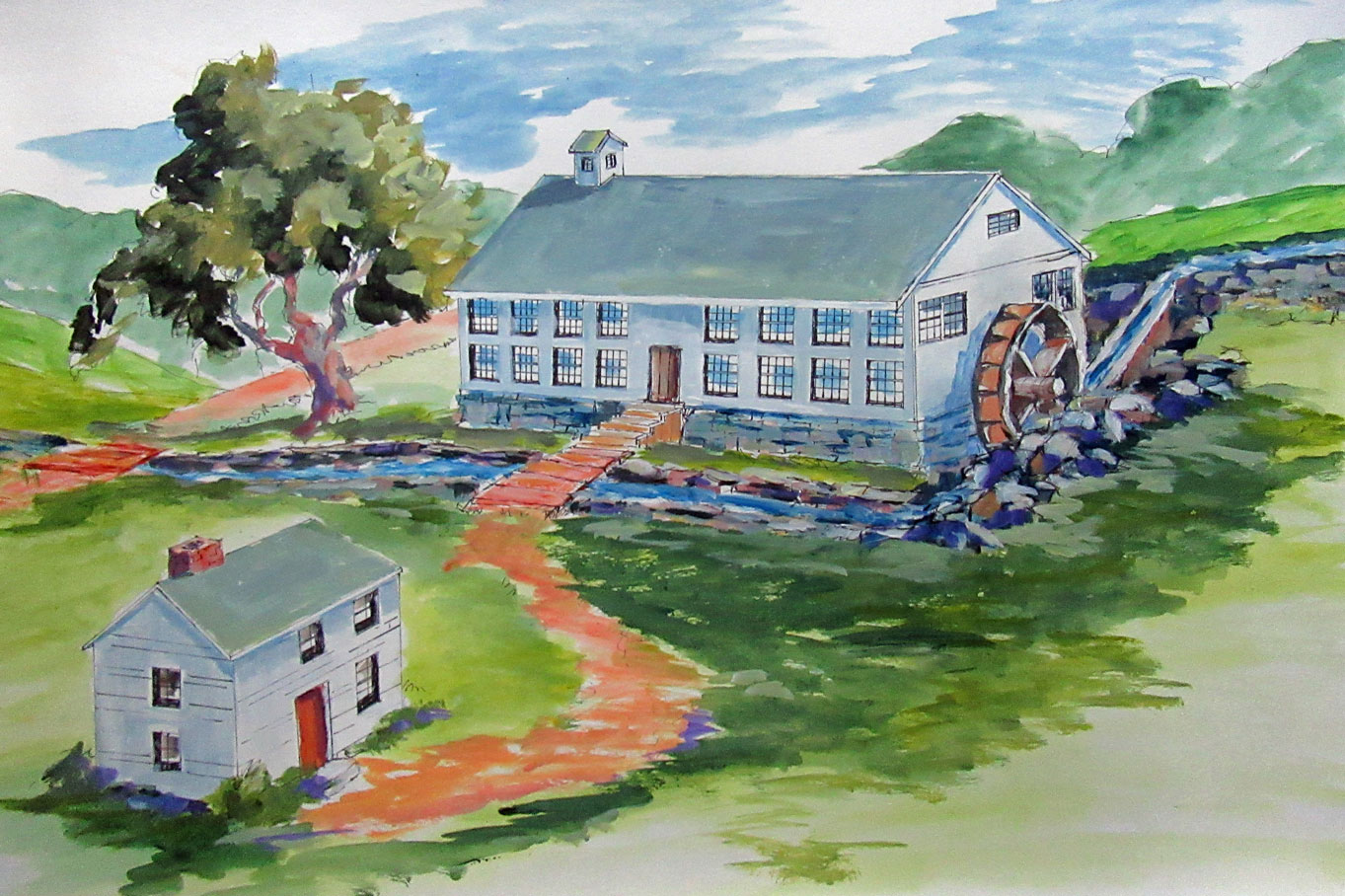 Valley Falls Cotton Mill
by Sharon Chaples
The History Of Valley Falls Park
SATURDAY, MAY 7, 1 p.m.: This is the 2nd of the Friends of Valley Falls weekend guided walks in the park.
Join JON ROE, Tankerhoosen Valley historian, to learn about the history of Valley Falls Park - the early settlers, the effect Box Mountain had on Vernon's history, the coming of the railroad, the cotton mill, Sharps trout hatchery, the changes made by the Beach family, and how the property was saved for you.
Free. Meet at the Valley Falls Park gazebo, 350 Valley Falls Road in Vernon.
For information call or email Jon at (860) 875-4101 or [email protected]
---
Strong Family Farm 5K Chicken Run
SUNDAY, May 22, 9 A.M.: Strong Family Farm hosts their 6th annual Chicken Run - 5K (3.1 mile) run, 2 mile walk or 1/4 mile children's race beginning at 9 a.m. Each year this is Vernon's first big outdoor event of Spring.
There will also be free fun family activities to complement the Chicken Run, including: the arrival of the baby chicks, a special appearance from our chicken mascot and rabbits, chickens and goats.
Strong Family Farm is located at 274 West Street in Vernon. (860) 874-9020.
---
Talcottville Memorial Day Parade
SUNDAY, MAY 29, 9 a.m.: Each Memorial Day the town of Vernon has two parades. The primary parade is held in Rockville on Monday, but on Sunday one of the state's shortest parades takes place in Talcottville.
Marchers begin at the Talcottville Congregational Church and proceed to the Civil War monument in the cemetery where ceremonies are held. The parade usually includes Vernon's mayor and council members as well as the fire and police departments, scout groups and veterans.
Mount Hope Cemetery is the home of Vernon's earliest Civil War monument, an obelisk at the highest point in the cemetery. The cemetery was dedicated in 1867 and the memorial monument was dedicated two years later in 1869. The memorial is engraved with the names of those from the area who gave their lives in the war.
Everyone is welcome to march in the parade and it's short enough for the kids. Assemble in the church parking lot at 10 Elm Hill Road at 8:30 a.m.
On Monday, May 28 Vernon's Memorial Day Parade will be held in Rockville.
---
Coming Up In June
To receive the next newsletter Join our Mailing List.
June 4 - Connecticut Trails Day
June 11 - Connecticut Open House Day
June 11 - The Vernon Chorale's 'A Choral Tapestry'
June 12 - Vernon Historical Society program on "Progressive Era Rockville (1911-1913)"
June 16 - Strong Family Farms' Farm Stand Opens