Fall Activities In Vernon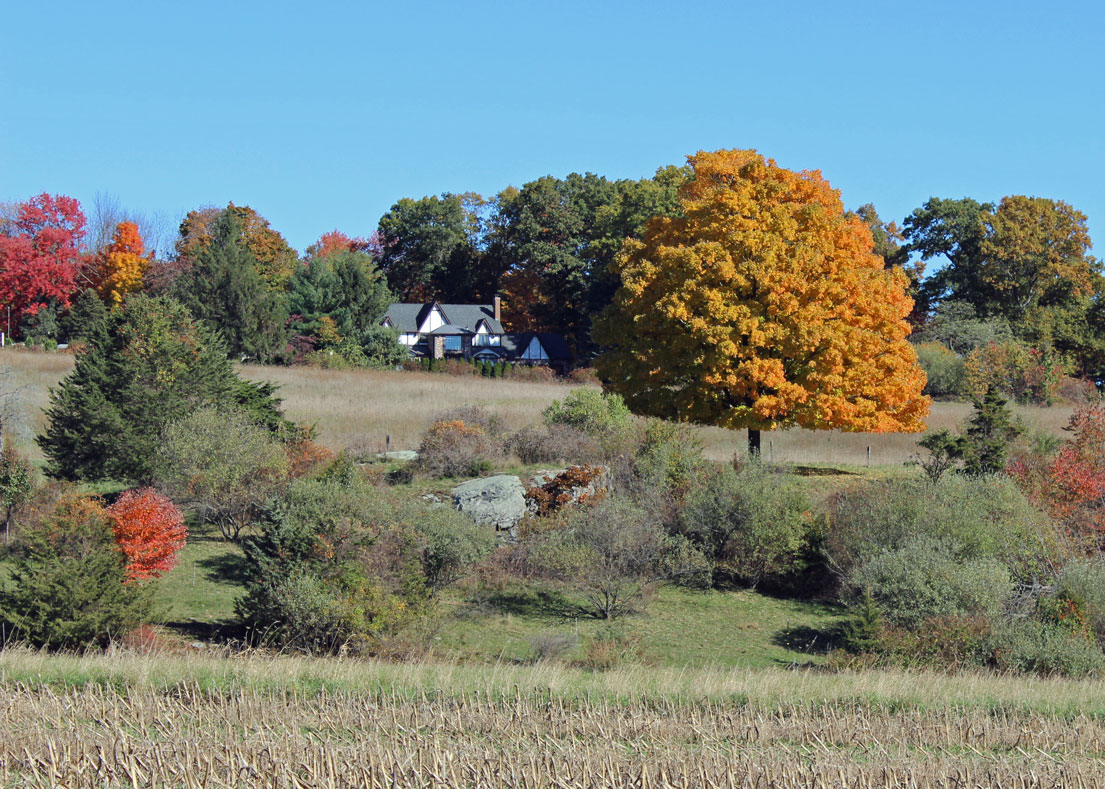 Autumn on Meetinghouse Hill.
After 18 months of very few events our organizations are cautiously stepping out.
Over the next six weeks the following nine events will cover a range of interests - music, history, farms, art and hikes. Something for everyone in Vernon. Many are outdoors, and all but one are live and in-person.
If you are as tired as I am of staying home this is your opportunity to come out and rediscover some of the organizations and locations that make Vernon a special place to live.
Many of the organizations sponsoring events are members of the Vernon Volunteers' Collaborative. Learn more about VVC on their website. If you would like advanced notice by email of this type of event please join their MeetUp Group. You will also find upcoming events listed on the VVC website under the 'Events' tab. Some of the 'Learn more' links below take you to MeetUp pages.
You can also visit our Tankerhoosen website and 'Like' our Facebook page.
Click on images for a larger view.
Jon Roe   
---
Cultural Concert Series: HuaTian Ave
SATURDAY, September 25, 5 p.m.: Arts Center East (ACE)presents HuaTian Ave, a trio of musicians dedicated to creating a new wave of unispherical jazz. Each member brings a unique voice, rooted in their own cultures and traditions. Melding improvisation, jazz, klezmer, and Chinese music traditions together, they create a concert experience unlike any other. HuaTian Ave features LUKE NELSON on guitar, ESTHER SHUYUE CAO on guzheng, and ALEXANDER KOLLIAS on clarinet.
This is a live performance, free to attend, but donations welcome. Sponsored by the Vernon Arts Commission.
ACE is located at 709 Hartford Turnpike, Vernon.
---
The Notorious Count Munchow
SUNDAY, SEPTEMBER 26, 1 p.m.: Join the Friends of Valley Falls for their Annual Meeting and a presentation by local historian, JON ROE, who will tell the story of the mysterious, early 20th century owner of Valley Falls Farm, 'COUNT' HANS BONHART MUNCHOW. The controversial Munchow came to Hartford in 1910 joining the booming automobile industry. He wooed and married a Southern belle using her money to build the unique European style stable and farm buildings. Deep in debt he fled town along with his secretary in 1913.
Recent research has tracked Munchow to Texas and then to New York City where he continued his nefarious ways. Hear about one of the most fascinating people to ever live at the farm.
A short business meeting will precede the talk.
Everyone is welcome. Meet in the basement of the Red Barn at Valley Falls Farm, 345 Valley Falls Road in Vernon. Please park in the Valley Falls Park lot. Shuttles will be available.
---
The Old Connecticut Path
WEDNESDAY, SEPTEMBER 29, 7 p.m.: This Tolland Historical Society program with JASON NEWTON explores the epic migration of Connecticut's founders along the Old Connecticut Path; part of the story of Connecticut's settling of Hartford, Windsor and Wethersfield. The path they followed had been in use by Native Americans for thousands of years.
Today much of the lands along the ancient Path have been lost to development over the course of almost four centuries, but over 10 years of research by Jason Newton a likely route across eastern Connecticut has been explored and mapped. It is possible today to walk along the trail first used by the Native people and followed by pioneers. The likely route of the Old Connecticut Path crossed the town of Tolland from the Willimantic River at Nye-Holman State Forest to the Tolland-Vernon town line.
Newton's presentation will introduce the special places along the proposed Connecticut Path Heritage Trail with a focus on Tolland. He has also researched Vernon and presented at the Vernon Historical Society.
This is a Zoom online event. To receive the link register with MARY-PAT SOUCY at [email protected].
---
Remembering World War II
SUNDAY, OCTOBER 3, 2 p.m.: The Vernon Historical Society will show the video "Boosting Our Morale: Soldiers' Letters to the Rockville Journal During World War II" in the Society's meeting hall. For those who can't attend, the film will be posted on the Society's YouTube page after the premier.
This global war left its mark on an entire generation. Young men and women left home to serve in the military while those on the "Home Front" pulled together to help in the war effort. Local newspaper editor STEPHEN VON EUW made sure that local residents in military service received a free copy of the Rockville Journal no matter where they were stationed. Grateful readers appreciated the news from home and wrote back to him. Von Euw saved those letters.
In 2010 the Vernon Historical Society presented a program with volunteers reading from the letters accompanied by a PowerPoint show with photographs of the writers. Students from the Drama Club at Rockville High School gladly lent their voices to the readings for the video.
There will also be an exhibit of posters, uniforms and artifacts from the Society's collection in the meeting hall from mid-September until the end of October.
The program is free and open to the public. The Vernon Historical Society is located at 734 Hartford Turnpike in Vernon.
---
NECWM Grand Reopening
SATURDAY, OCTOBER 9, 10-4: Come celebrate the Grand Reopening of the New England Civil War Museum (NECWM). There are new exhibits, a living history encampment, presentations, and demonstrations.
The living history encampment on the park will include soldiers of the 8th and 14th Connecticut Volunteer Infantry Regiments and 2nd Connecticut Light Artillery, sailors of the US Naval Landing Party, and civilian impressions of period chaplains, state agents, and home front support. A six-foot model of the USS Monitor will be on display with its creator.
Come for the opening ceremony at 10:30 a.m. Raffles for a 50/50 split and great items, as well as a book sale will be held all day.
The New England Civil War Museum is located at 14 Park Place in Rockville.
---
Artists Day At The Farm
SUNDAY, OCTOBER 10, 1-3 p.m.: The Friends of Valley Falls summer event was washed out by Hurricane Henri, but what could be better on a crisp fall afternoon than watching 'Plein Aire' artists at work? You might bring a blanket and picnic lunch . . . afterward, stroll the farm grounds while listening to the guitar-mandolin duo of JUDY HANDLER and MARK LEVESQUE. The artists will be painting at their chosen spots, in this most scenic Vernon venue.
Free lemonade, provided by the Vernon Arts Commission. Tours of the historic farm buildings will be given by local historian, JON ROE. A fun afternoon for you and your family.
Please park at the Valley Falls Park parking lot, 345 Valley Falls Road in Vernon. You can take the trail up to the Red Barn from the parking area. A shuttle will be available if needed.
---
Strong Family Farm Scarecrow Contest & Day On The Farm
SATURDAY, OCTOBER 16: The Strong Family Farm will have a smaller-scale Day on the Farm. They will announce the winners of the Annual Scarecrow Contest, say goodbye to their chickens from the Backyard Chicken Program as they go off to their forever homes, have the Farm Store Season Closing Sale, and unveil LORI SANCHEZ's newly published book, "Strong Family Farm" with signed copies!
Events will be spread out throughout the day, keeping social distancing in mind.
110th Annual Scarecrow Contest: Each year Strong Family Farm holds the Scarecrow Contest for individuals, groups, and businesses to display their creativity. Entry categories include: Family, Adult Group, Youth Group, Business, Traditional.
Set-up begins Saturday, September 25 and continues through Sunday, October 3. Scarecrows must be set up by 5 p.m. October 3 to be included in the judging.
Winning entries will be announced at a special ceremony on October 16. Ribbons will be placed on the winning scarecrows and will remain on display to allow the public a chance to view your hard work and the contest results. Community Voice Channel will be present to film. See Rules & Sign-Up information.
Strong Family Farm is located at 274 West Street in Vernon. Limited parking is available in the farm field from the entrance on Peterson Road. Parking is also available on side streets and at Center Road School with an opening in the corner fence by the training station.
» Learn more about the Day On The Farm.
---
Valley Falls Fall Foliage Hike
SUNDAY, OCTOBER 17, 9 a.m.: The Northern Connecticut Land Trust (NCLT) leads this Fall foliage hike along Railroad Brook gorge in Vernon.
Hike thru NCLT's Andrew Webster Knapp property to the Hop River Rail-Trail, then up to the ridge overlooking Valley Falls Park and Railroad Brook for some beautiful Autumn scenery.
This free hike is a fairly energetic walk with up and down steep slopes, 1 to 1.5 hours. Meet at the Valley Falls parking lot off Valley Falls Road. Call KARL at (860) 649-4949 for further information.
---
Stickney Hill Preserve Hike
SATURDAY, OCTOBER 23, 1 p.m.: The Manchester Land Conservation Trust will lead a hike of their Stickney Hill Preserve in Rockville. The 16-acre property is above Amerbelle and Paper Mill Pond and at one time was home to a pair of water tanks that provided water to mills and Rockville homes.
The area was inherited by businessman JOHN STICKNEY in the mid-nineteenth century. Stickney owned the mill for which nearby Paper Mill Pond is named and built a house nearby.
Land Trust board member and property steward ROB LEWIS will lead the walk. A short (1 mile) hike, moderately paced with a steep hill and bumpy ground, with pauses to learn about the history and lore of the area. The event is free, and will be held rain or shine, but extreme weather cancels. Meet at the end of Pleasant Street in Rockville.
---
Coming Up Later This Fall
Events slow down after October as we begin to move indoors and towards the holidays. Agricultural fairs give way to craft fairs and a number of our organizations hold them as fund raisers. The next newsletter of this type will not be sent until late Winter when Spring activities are planned, but listed below are a few events coming up in November and December.
Nov. 11-21 - Arts Center East's 'Holiday Artisan Craft Fair.'
Nov. 27 & 28 - Vernon Historical Society's 'Holiday Craft Fair.'
December 4 - The Vernon Chorale's Christmas Concert
To receive the next newsletter