This Page Is Under Construction
Guzman's Poultry Farm
Poultry was an important industry in Vernon during the 1900's; a time before the large corporate farms of today when small farms could build a good business. The Jewish refugees who settled in the area during the early 1900's, often with little farming experience, could fairly easily learn to raise poultry. But this story is about Arthur Guzman and his family who built one of the largest poultry farms in Connecticut on Bolton Road and were active in organizing poultry farmer cooperatives.
In learning about Vernon's history it's interesting to see the paths taken by successful immigrants. We find a number that come to Vernon for one type of employment, but seeing an opportunity find success on a different path. Arthur Guzman was one of those.
Click on images for full size.
Establishing The Farm
Arthur James Guzman (1887-1945) was born in New York City in 1887. Guzman is a Spanish name meaning 'good man;' his father was born in Spain and lived in San Salvador before coming to New York. His mother, Elizabeth Guzman (1856-1937), was an immigrant from Germany. She was first married to Leonard Mahnken with whom she had two children, Elizabeth Mahnken (1872-1961) and Frederick Mahnken (1882-???). They would also play a role on the poultry farm.
Arthur became an electrician as a young man in New York and brought his trade to Rockville where he established an electrical contracting business about 1910 while in his early 20's. He first boarded on Bolton Road, but soon bought the property where his mother, sister and brother lived with him. His sister Elizabeth was a hospital nurse and his brother Frederick was a clothing cutter, probably in one of the mills. About 1915 Frederick returned to New York City.
About 1918, at age 30, he married Mary Ann Chiffonier (1896-1983). We don't know Mary's background or where she met Arthur, but she was from New York City and, like Arthur's sister, was a nurse; perhaps nursing was the connection. At the time of her wedding she was 21, nine years younger than her husband.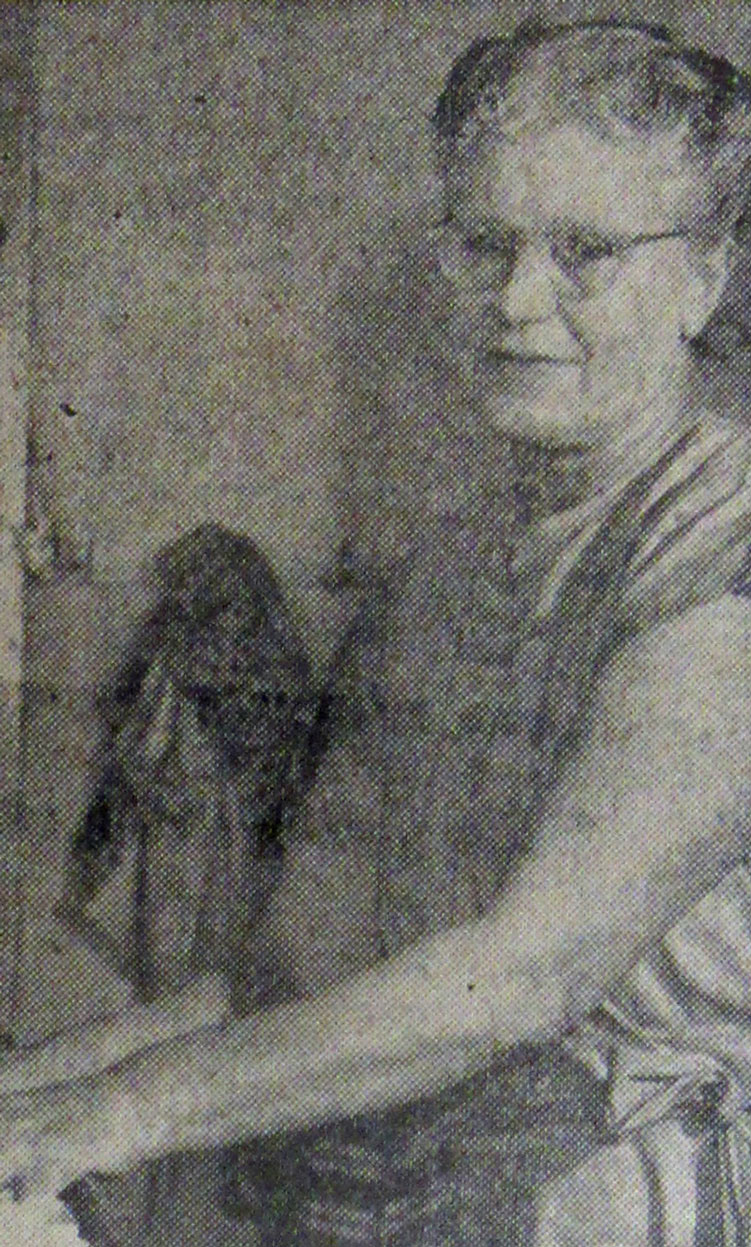 Mary Guzman
(Source: Hartford Courant)
Mary's father was from Austria and her mother from Germany. Her maiden name is given as Shiffinly or Chiffonier and her year of birth listed as ranging from 1894 on her Social Security to 1900 on the CT Death Index and her gravestone. Census records indicate she was 9 years younger than her husband and married at the age of 21 so 1896 is most likely.
Mary was later described as "a hardworking woman whose kindnesses are recalled by many. She had little interest in social activities but many friends. When they were ill she sent them fresh eggs and poultry, and when they were able to get about invited them to visit the farm to recuperate. Always a hard working woman she worked even after the farm had become one of the most noted poultry farms in the state. She found pleasure in working, in accomplishing things and in helping her friends."
Shortly after marriage in 1919 they had their only child Arthur Frederick Guzman. Arthur J. continued to grow his business in Rockville located first on Market Street and then on Park Street. On the farm Mary introduced a few chickens and began selling eggs and chickens for extra income. As the little business showed promise Arthur put more focus on it and it began to grow. By 1930 he and Mary had a thriving business and named the farm the Oakland Poultry Farm. Arthur's mother Elizabeth, and his sister Elizabeth continued to live with them.
Arthur gave up the electrical business and joined Mary in the chicken business, but when reverses set in and the flocks were lost, he returned to the electric business for a time and they started the poultry business anew.
They tried new methods of poultry farming that succeeded. Two-story poultry buildings were built and additional help hired. The Guzmans made a study of the poultry business and as other larger growers were doing began to confine birds to the buildings. The chickens were fed water from springs in the hills and they introduced other labor saving and advanced methods. At times 10,000 to 15,000 birds were at the farm.
An article in the Hartford Courant in 1948 with the headline "Connecticut Is Leading Nation In Poultry Work" reviewed the Connecticut poultry industry. The University of Connecticut, originally an agricultural college, studied and developed scientific methods for improving the poultry industry. They helped develop modern radiant heated cinder block breeder houses and were particularly proud of developing high energy rations for broilers. Hen population and egg production had grown rapidly. It become financially the largest agricultural industry in Connecticut. Poultrymen's cooperatives handled eggs and poultry as well as marketing.
The 1949 Rockville-Vernon Directory lists 13 Poultry Breeders in Vernon, including familiar families such as Luginbuhl, Pitkin, Smith and Tillinghast.
The Guzman's farm continued to grow and became one of the largest in Connecticut. Arthur became involved with state poultry organizations and was president and general manager of the Central CT Cooperative Farmers Asso. He was also a director of other farm organizations as well as active in the Vernon Grange, Rockville Elks and the Vernon Congregational Church.
Their hope for their son was that he would study law specializing in law that would aid farmers and the cooperative movement. But instead he explored music and married. Arthur died in 1945 while in his prime after a long illness. The ownership of the farm passed to Mary and his son returned home at age 26 and became the farm manager.
| | | |
| --- | --- | --- |
| | | |
| Aerial view of farm in 1934. | Hen & breeder houses. | Inside a breeder house. |
After Arthur J.'s Death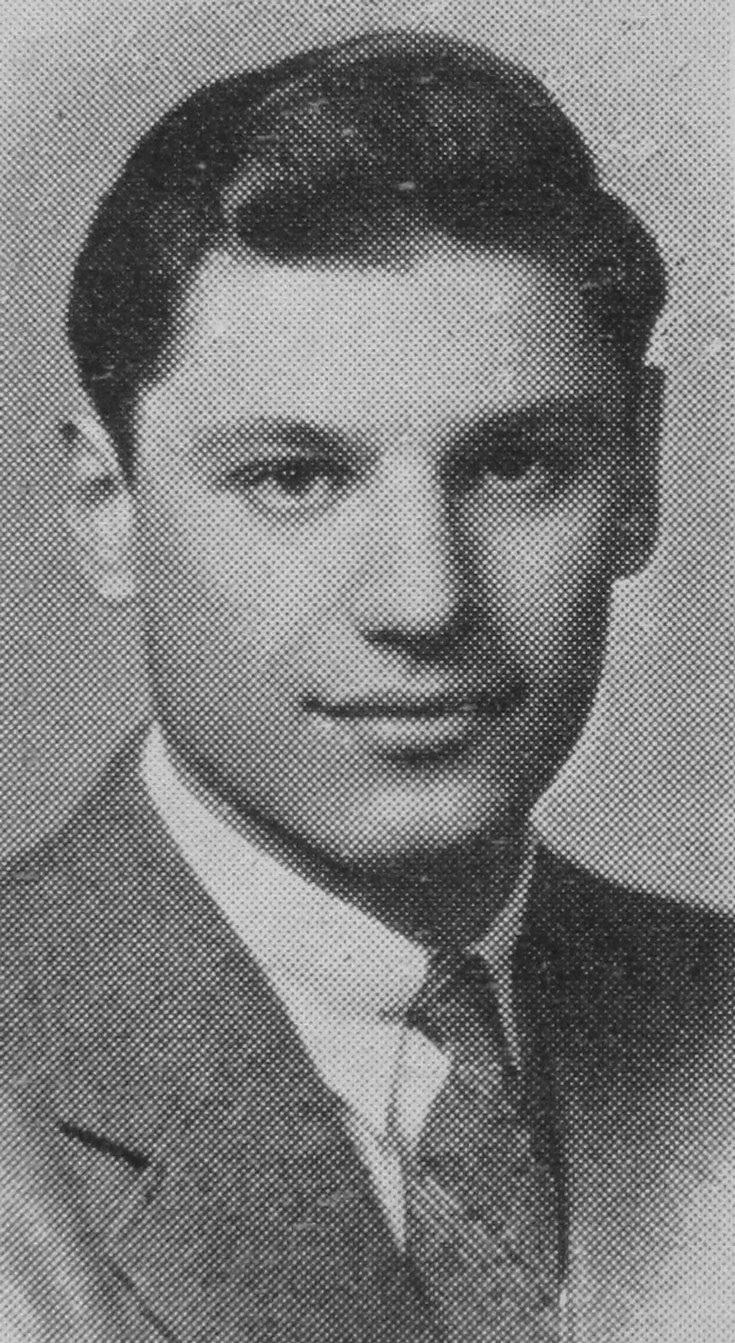 Arthur F. Guzman in 1937.
(Source: RHS yearbook)
Arthur F. Guzman (1919-1950) followed at first reluctantly and then enthusiastically in his father's footsteps. He was born and raised in Vernon graduating from Rockville High School in the class of 1937. His yearbook recognizes even then that he was an accomplished speaker and was chosen as 'most likely to succeed.'
He went on to graduate from the University of Connecticut. His parents encouraged him to become a lawyer after UConn, but he had other interests. He pursued his love of music at the Kansas City (Mo.) Conservatory of Music and the Hartt Musical Foundation in Hartford. As soon as she graduated from UConn he married a classmate, Dorothy Preusse from Ellington. Perhaps he would have pursued a musical career, but after his father's death he came home and became manager of the farm. He and his wife began a family while living with his mother and aunt. Educated and personable by 1950, at age 30, he was already president of the Connecticut Poultrymen's Association, a director of the Tolland County Farm Bureau, a member of the Vernon Grange and the Rockville Elks Lodge as well as an amateur musician.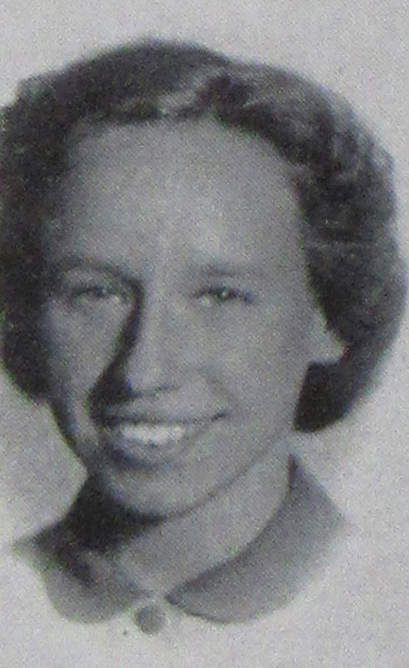 Dorothy Preusse in 1939.
(Source: RHS yearbook)
Dorothy Ruth Preusse Guzman (1921-2019) was born in Hartford to Otto and Dora Preusse and grew up in Ellington. At the time Ellington did not have its own high school so she attended Rockville High School, two years behind Arthur. Although they likely knew each other it wasn't until they were at the UConn that they began dating and married June 12, 1943 two weeks after she graduated. Dorothy was a life long friend of classmate Geraldine Strong.
Arthur is described as, "a young man of likeable qualities, with opinions and views, and never feared to express his thoughts. He was active in the Vernon school controversy. He contributed freely of his time in singing at special programs, and was well informed on many subjects."
Another tribute describes his musical interests, "He was very gifted musically, having a fine baritone voice, and very generous about singing at local meetings and entertainments. It was through his music that a very great many people were best acquainted with him. One local music critic told of how impressed she was when she heard him sing 'The Lord's Prayer' at a county religious meeting at Union Church."
With his success managing the farm, popularity in the community, and growing family he and Dorothy built an expensive modern ranch house on his mother's property with all the latest labor saving appliances expecting, as the only child, to soon take over the business and the farm.
Sadly his life ended tragically in 1950 at the age of 30.
» Read about the 1950 murder of Arthur F. Guzman.
The Farm After Arthur F.'s Death
Arthur was murdered in July 1950 by his mother. Mary went to prison with a life sentence, but was released in the early 1960's. She retained ownership of the property and business while interred and the farm continued to operate, either with hired help or with a tenant farmer. We don't know what, if any, role she played in the farm while in prison.
After release she returned to the farm but the business had changed. Large supermarket chains emerged during the 1950's and dictated the kind of poultry their customers preferred and put pressure on costs. This encouraged the growth of large corporations and the consolidating of production. Frank Purdue and Don Tyson transformed poultry into huge businesses and smaller local farms couldn't compete. Poultry farming required larger equipment and more productivity. The government also became heavily involved through direct payments and indirect support of agricultural technology research. Making money in farming meant that you had to understand and manage government programs.
Chicken producers responded to consumer demands, revolutionized both their products and production methods, took advantage of new health research and overtook beef as the most popular meat on the tables of consumers.
Poultry production also concentrated onto fewer and fewer farms. According to the Census of Agriculture, between 1940 and 1969 the number chickens on farms stayed relatively stable at around 370,000 birds. But the number of farms growing those chickens dropped from over 5 million in 1940 to less than 500,000 in 1969. Processing those chickens also concentrated into a few, vertically integrated companies.
» For more on how poultry farming changed during the 1950's and 60's
Mary sold the farm about 1966 and moved to Rockville where she lived until her death in 1983. The houses still stand on Reservoir and Bolton Roads, but the farm land was purchased and became the Indian Trails subdivision. Nothing remains to remind Vernon of their poultry farm days.
Sources
Most of the information here comes from articles published in local newspapers at the time of the murder. It was big news at the time and The Hartford Courant, The Hartford Times, Manchester Herald, Rockville Journal and Rockville Leader all ran stories and photos.

Material was also found from Vernon-Rockville directories at the Vernon Historical Society and online at Ancestry.com.

The photos of the hen houses and chickens are courtesy of the Strong family and the Vernon Historical Society.

September 2021