Elmwood Cemetery Memorial of the Month
Peter Dobson
(1784-1878)
Peter Dobson, engineer, scientist and industrialist, helped establish the woolen manufacturing industry in Vernon and Rockville.
Peter was born in Preston, Lancashire, England on August 5, 1784. Though as a master cotton-spinner his prospects at home were good most of his young English contemporaries, like Samuel Slater and other highly skilled mechanics, decided that in the United States there would be more opportunity than in the old country.
Leaving Liverpool in March 1809 at the age of 25 he arrived with a letter of introduction to John Warburton, who had been for some six years spinning cotton and carding wool on the Tankerhoosen River.
After gaining experience he was invited by Chester King and James Chapman to join them in building and operating a cotton mill at their mill privilege at today's Talcott Ravine. A partnership was formed and the construction of machinery commenced, mainly under Peter's supervision. Spinning began in the spring of 1811. Names changed over time, but the Tankerhoosen Cotton Factory was often just referred to as Dobson Mill East.
Engineer
While developing this mill Peter received a request in the fall of 1811 from Delano Abbott, a local farmer. Abbott wanted to manufacture a fabric for which he had only a sample, a piece of imported cloth, apparently woolen, which he had attained from a tailor in Hartford.
Peter analyzed the sample and found that the warp was cotton, five threads up and one down, and a filling of woolen yarn. To learn what equipment currently existed he visited a woolen mill in Middletown.
He then built for Abbott a billy of thirty spindles and a jenny of six spindles. The machinery went into operation late in 1813 and it has been claimed that this was the beginning of the manufacture of satinets in this country.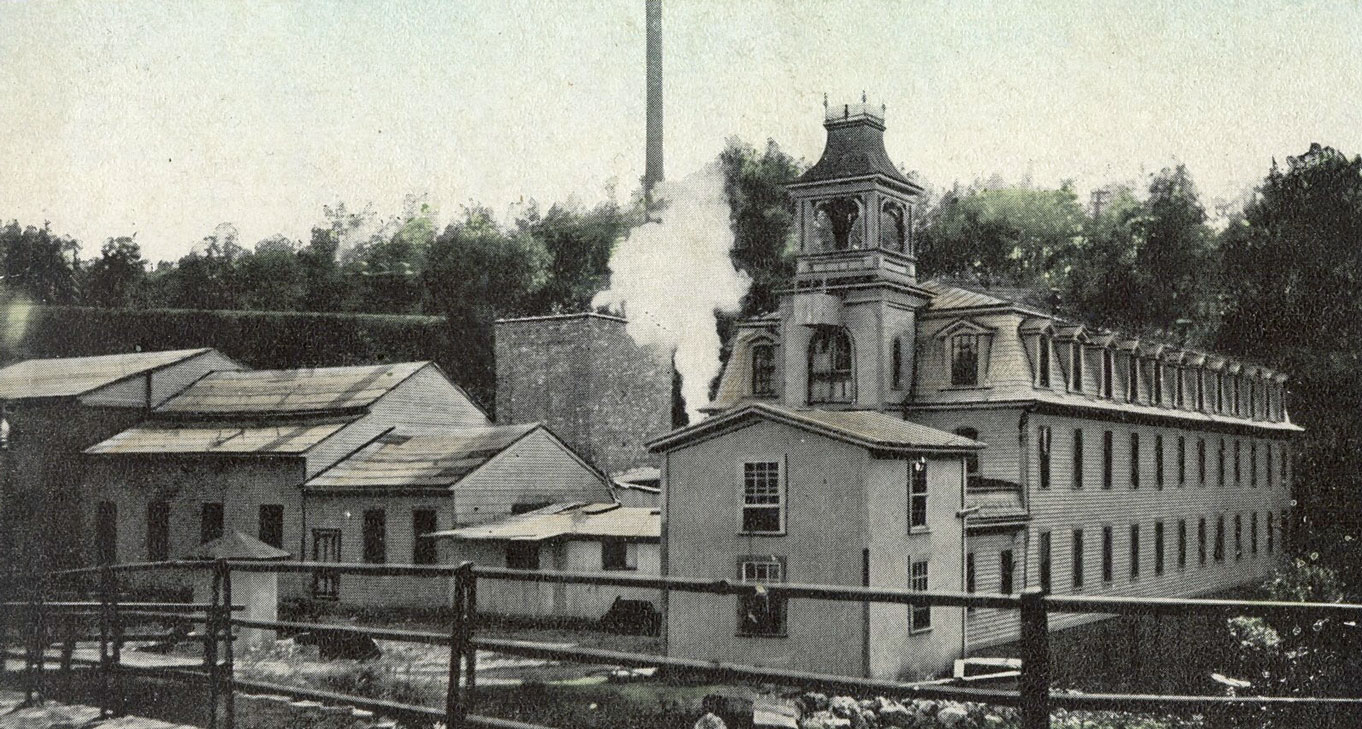 Dobson Mill East.
Scientist
While digging the mill foundations Peter became curious about the scratches on the rocks and their odd positioning. He theorized they were caused by glaciers and suggested the theory in a letter to Professor Benjamin Silliman in November 1825, which was published in the American Journal of Science.
The article found its way to the Geological Society of London where in 1842 Peter's work was honored and described as "a short clear, and modest statement, which, though little more than a page in length, contains the essence of the modified glacial theory."
Industrialist
A few years after Peter built Dobson Mill East he constructed, a little downstream, Dobson Mill West, also known as The Ravine Mill. It began operation in 1826, burned a year later but was immediately rebuilt.
Over the next 30 years the mills prospered at times and suffered through national financial crises at other times. During the Civil War they shut down for two years as cotton became unavailable.
Near the mills were built the houses and community that thrived for over a hundred years, known first as Centreville and later as Dobsonville.
Peter retired after the Civil War, near the age of 80, passing the business on to his son John. He and his family were members of the Vernon Center Congregational Church and he was active in civic affairs throughout his long life.
Dobson was one of the fathers of the manufacturing industry in Rockville. An obituary in the Hartford Times said of him, "Physically he was a man of large and powerful proportions; mentally, he was a vigorous, deep, a wholly original thinker and a clear and independent observer, with a decidedly mathematical mind, and a talent for practical mechanics."
» Learn more about Peter Dobson and his mills on Scott Lent's website.
» Visit his Find A Grave Memorial..
» Go to Elmwood Cemetery Memorials Home page.
---
© Copyright The Tankerhoosen. All rights reserved.