Introduction to the Elmwood Cemetery Memorials
As a local historian I spend a lot of time in Vernon cemeteries. Gravestones are a valuable source of information on individuals being researched and their families. Vernon's cemeteries are well maintained and peaceful places to spend quiet time.
Visiting the grave of the person being researched is a way of connecting with them. They become more than a name in a book or on a deed and I feel a connection with them.
Then wandering the graveyard I become curious about the other people and families buried there who lived and died centuries ago with the same hopes, fears and dreams that we have today. Many of our cemeteries contain multiple graves with similar names; families important to the community in their day but who have been forgotten.
Who were they, how did they live and what did the world look like in their day? Knowing them connects us to the land and the town we live in. Our Vernon community then extends into another dimension - back in time. Even if we weren't born in Vernon, as I wasn't, it enriches our lives to feel connected - even if just for a few years.
For some time I've searched for a way to introduce Vernon to some of the people who shaped our town. Cedar Hill Cemetery in Hartford sends an email to their list each month with a short biography of one of those buried there. It's short and quick reading so I'm adapting their idea to Vernon cemeteries. For the next 12 months I'll send one short email monthly introducing one of the notable people buried in Elmwood Cemetery.
I chose Elmwood because it is relatively small, but includes burials of many of the important Vernon people of the Nineteenth Century. Also my research focus has been on the Tankerhoosen Valley rather than Rockville and most of the people in Elmwood had a strong connection to this part of town.
Elmwood was our third cemetery established about 1835 just after the meeting house and school moved from Meetinghouse Hill to Vernon Center. Earlier cemeteries were the Old Burial Ground of North Bolton on Bamforth Road, established in 1751, and the Southwest or Old Dobsonville Cemetery on Talcottville Road, established in the 1790's.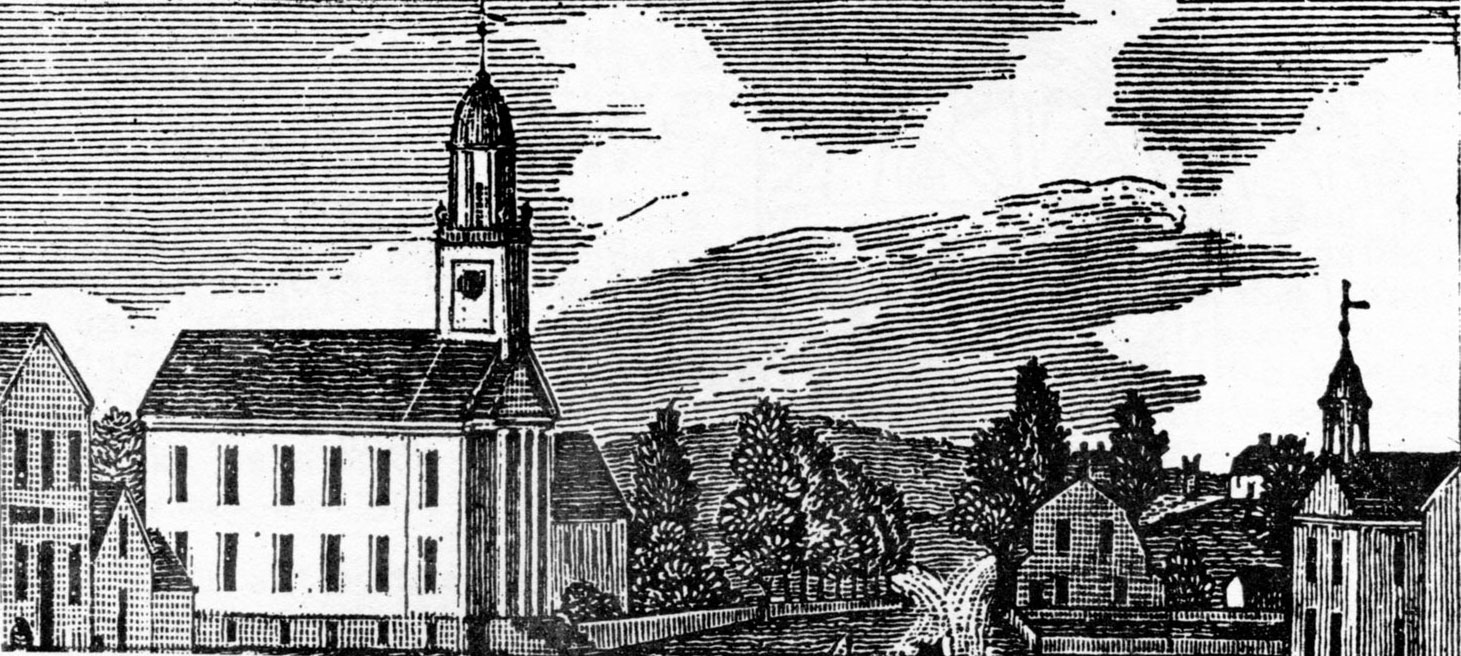 Barber's 1830 Vernon Center looking northeast.
An excellent way to explore this and other cemeteries is the Find A Grave (FAG) website. It includes photos of most gravestones and memorials, often with biographies. Many have GPS locations so that with the FAG cell phone app you can easily locate graves. In each memorial will be a link to the subjects FAG memorial. In many of the memorials links to longer biographies will also be included.
Jon Roe   
---
The Elmwood Cemetery Memorials is a project of The Tankerhoosen where you'll find a variety of information on the Tankerhoosen River Valley. The purpose of the website is to be a resource for information about the area for both those living here and those who enjoy hiking and exploring the area. You'll find information on Tankerhoosen Valley history, the river itself and the special places along it. We hope to encourage further exploration and to enhance your experience through an appreciation of all it offers.