Elmwood Cemetery Memorial of the Month
Frederick Walker
(1822-1900)
Frederick Walker built Walker's Reservoir as well as his own mills, and was also a very successful farmer; but he is unrecognized in Vernon history books.
The Walker Family
Thomas Walker came to North Bolton in the late 1700's inheriting property on Bolton Road along Box Brook, today's Valley Falls Park. His sons shared his land and established farms along Bolton Road too.
Frederick Walker was born to this family in 1822. His father, a farmer, died when he was just 10. Ezekiel Baker became the guardian of he and his two sisters. What began as a tragedy would become a blessing.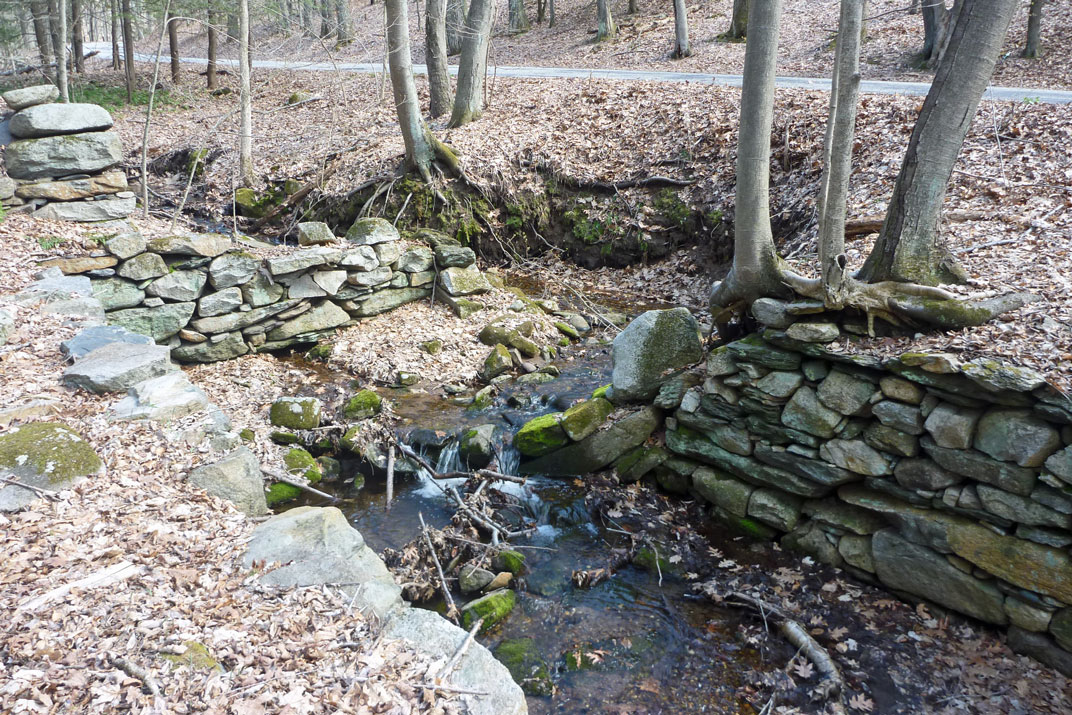 Walker mill remains.
Ezekiel Baker, of the Baker family who owned much of eastern Vernon along the Tolland line, accumulated a number of properties along the upper Tankerhoosen River. He had no children at a time when sons were essential to help with and eventually inherit the family farm and property. Baker became Frederick's guardian and then stepfather when ten years later he married Frederick's mother.
When Baker died in 1842 he left everything to his wife and his son Frederick, who was about 20 at the time. This included the house and barns that still stand on Reservoir Road.
Like many young men of the time Frederick wanted to be more than a farmer. Near his house on today's Fish and Game Road he built saw, grist and spool mills just upstream of the 18th Century Allis mills. The remains are easily visible from the road.
Walker's Reservoir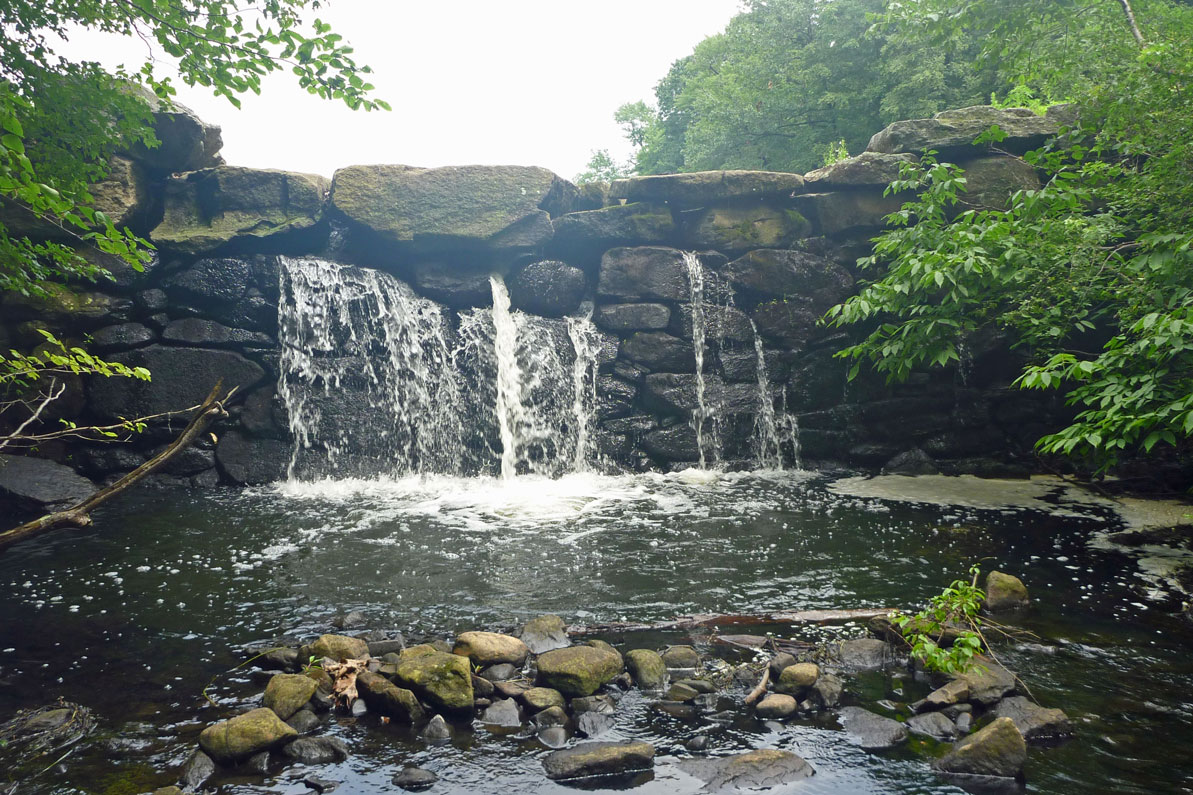 The dam that Walker built.
About the same time the cotton mills down stream - the Phoenix, Dobson and Kellogg (later Talcott) mills - were expanding. The owners of the large mills in Rockville were cooperating to control the flow of water from Shenipsit Lake, and the Tankerhoosen River mill owners felt it was important to control the flow of their own river.
In 1846 they contracted Frederick Walker to build and maintain a reservoir on his property that would give them control over the flow of the entire river. Walker, now only in his mid 20's, was paid $1,250 and by agreement allowed to use the water for his own mills. A small dam was at that location for an old saw mill and Walker took just five months to raise and strengthen the dam and have it ready to flow creating Walker's Reservoir.
The reservoir was created for the benefit of mill owners along the river. But for the past 175 years it has also been enjoyed by the people of Rockville and Vernon who used the Reservoir for fishing, swimming, skating and picnicking.
Walker's Farm
Walker then settled down to raise a family and farm the land for the next forty years. He was a very successful farmer. When he was age 50 the 1870 agricultural census shows he owned 400 acres of land with 100 acres in crops. In addition to normal farm livestock he had 60 sheep and grew 200 bushels of Indian corn as well as oats, hay and Irish potatoes and produced 300 pounds of butter. The small mills appear to have supplemented his farm and may have been seasonal, but continued in use into the 1890's.
Times were changing as the 20th Century approached and his own sons chose not to farm or continue the mills. In 1897 Walker sold his property. The land along the Tankerhoosen River was purchased by the Bissell's in the 1920's and in 2011 becomes the Tankerhoosen Wildlife Management Area.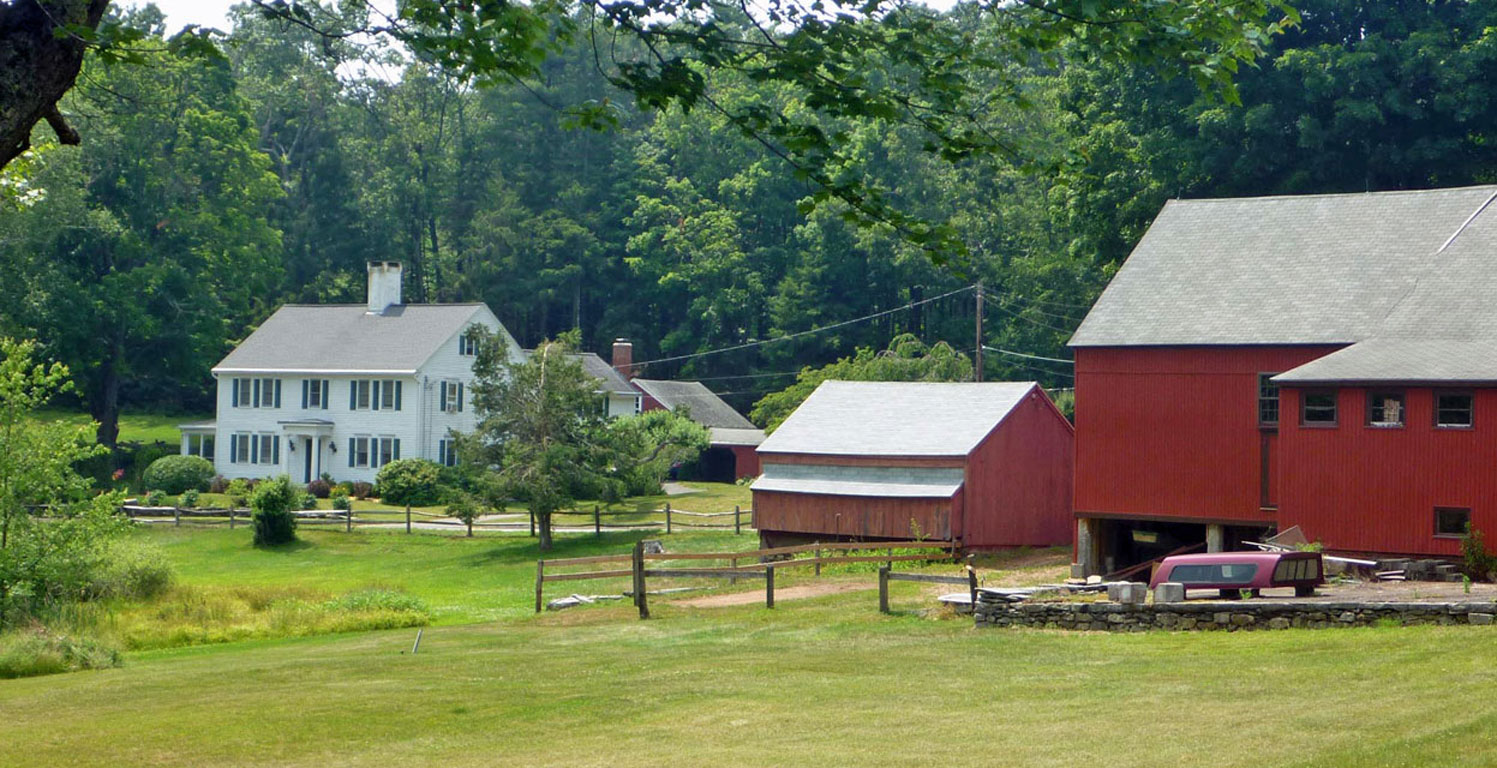 Frederick Walker's farm today.
» Learn more about Frederick Walker his life and times.
» Visit his Find A Grave Memorial..
» Go to Elmwood Cemetery Memorials Home Page.
---
© Copyright The Tankerhoosen. All rights reserved.