September Events In Vernon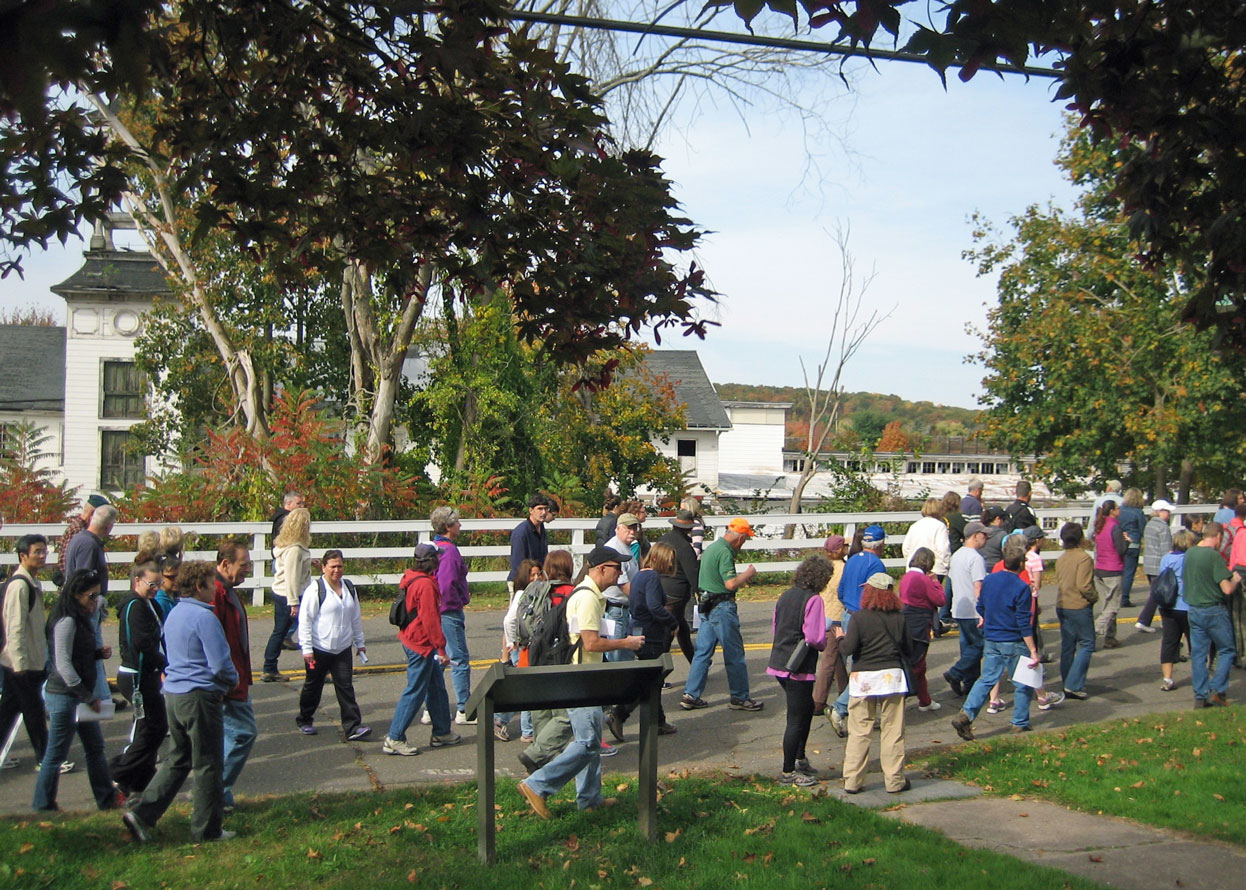 Autumn walk in Talcottville.
After Summer's heat and humidity Autumn offers a variety of hikes and programs to get you and your family out of the house to enjoy the outdoors and explore town.
This September there are hikes that combine history and nature and opportunities to learn about our history and farms. Many of these will take you outdoors - the best place to be in Autumn in New England.
Many of the organizations sponsoring events are members of the Vernon Volunteers' Collaborative. Learn more about VVC on their website. If you would like advanced notice by email of this type of event please join our MeetUp Group. You will also find upcoming events listed on the VVC website under the 'Events' tab. Some of the 'Learn more' links below take you to MeetUp pages.
You can also visit our Tankerhoosen website and 'Like' our Facebook page.
Click on images for a larger view.
Jon Roe   
---
Detroit '67
SEPTEMBER 6 TO SEPTEMBER 21: Arts Center East presents 'Detroit '67 by the Dionysus Theater Company. Playwright Dominique Morisseau reimagines the Detroit of her parents' generation and the riots that began on a Sunday in 1967. The play tells the story of conflicting siblings against a backdrop of the race riots that shook Detroit.
Please note: Play contains strong language and themes of violence.
Performances are Friday, Saturday and Sunday through September 21. See website for times and cost. Purchase tickets online or call (860) 871-8222.
ACE is located at 709 Hartford Turnpike, Vernon.
---
The Making of the Movie Gettysburg
FRIDAY, SEPTEMBER 13, 7 p.m.: The New England Civil War Museum (NECWM) hosts 'The Making of the Movie Gettysburg' with PATRICK FALCI.
For 24 years, Falci has been the face of General Ambrose Powell Hill, 'Lee's Forgotten General'. He gained fame for creating the role of Hill and also as director / screenwriter Ron Maxwell's historical advisor for the movies "Gettysburg" and "Gods and Generals". He is a first rate spokesman for the legacy of this period of our history. Hear the stories behind the making of the movie.
Cost: $10 in advance, $15 at the door. The program will take place at the NECWM, 14 Park Place in Rockville.
---
Bug Day On The Rail Trail
SATURDAY, SEPTEMBER 14, 9 a.m.: Vernon Greenways Volunteers will conduct a tour of the Rail Trail looking for a possible infestation of the Asian Longhorned Beetle and the Spotted Lanternfly.
The Asian Longhorned Beetle attacks maple, birch, elm and willow trees. The Spotted Lanternfly is the new 'bad kid' on the block. It was first discovered in SE Pennsylvania in 2014. It is a pest of our shade trees, grapes, tree fruit and hops.
Your help is needed. With more people we can cover more of the Rail Trail. Training is provided and an expert leads each group. Meet at the Rail Trail's Church Street Parking Lot in Vernon. We will be done before noon. Breakfast items will be served.
Bring binoculars if you have them or, if not, we will supply. If you have questions or plan to attend, please contact Don Bellingham at (860) 872-6061 or [email protected]
---
Gifts From The Garden
MONDAY, SEPTEMBER 16, 7-8:30 p.m.: Join the Vernon Garden Club for "Gifts From The Garden."
Members will bring for auction something each has created from our garden bounty this summer. Items may include flavored vinegars, seeds, plants, fresh or dried herbs, flowers, vegetables, or baked goods.
A lively auction presents a chance to renew friendships and begin a new VGC calendar year. Guests are always welcome at meetings.
The program will be held at the First Congregational Church of Vernon, 695 Hartford Turnpike in Vernon.
---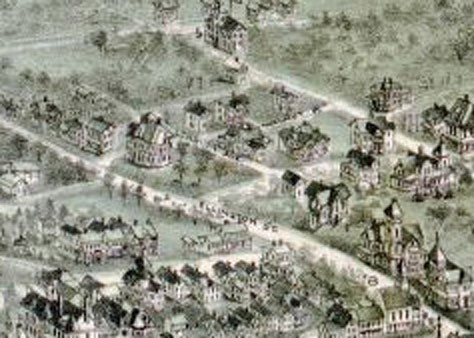 1895 Longview section at Ellington line.
The Longview Express – A History Mystery
SUNDAY, SEPTEMBER 22, 2-3:30 p.m.: The Vernon Historical Society will host a program on "The Longview Express – A History Mystery" presented by local resident GREG GUNN.
Greg has been researching the possibility of a trolley line that headed up Ellington Avenue and extended beyond the border of Rockville. When trolleys were in use, however, this particular area, formerly known as the Longview section of Ellington, was only sparsely settled resulting in a limited need for such transportation. So – who would use such a trolley line and for what reason would it be built? And what evidence is there to prove its existence?
On the following Saturday, September 28th at 1 p.m., there will be a guided bus tour covering the Longview area and a drive by the northern shore of Shenipsit Lake. Tickets to join the tour will be on sale for $10 after the presentation.
The program is free and open to the public. The Vernon Historical Society is located at 734 Hartford Turnpike in Vernon.
---
Public Works Community Day
SATURDAY, SEPTEMBER 28, 9 a.m.-12 p.m.: Families can check out big trucks and town-owned vehicles of all types and sizes, including a dump truck, fire truck, plow truck, ambulance and payloader. Explore and climb aboard the big trucks.
A mobile shredding unit will be available with a maximum of 3 boxes per vehicle.
Learn the latest about other town departments - Fire and Ambulance, Police, Water Pollution Control Authority, and the Senior Center.
The Vernon Public Works Facility is located at 375 Hartford Turnpike in Vernon.
---
Talcottville/Talcott Ravine Walk
SATURDAY, SEPTEMBER 28, 1-3 p.m.: This is the seventh year of our popular History and Fall Foliage Walk - a loop hike beginning in Talcottville, passing through the Northern Connecticut Land Trust's Talcott Ravine and returning on the Hop River Rail Trail.
Learn about Talcottville as a company village and visit the Civil War Monument in the Mount Hope Cemetery. October is Archeology Awareness Month, so we'll also discuss the archeological survey at the Dobson West Mill site. The survey was done in 1980 prior to expanding I-84.
Speakers are GAIL FAHERTY from the Northern Connecticut Land Trust and JON ROE, webmaster of The Tankerhoosen website.
Meet at the parking lot of the Talcottville Congregational Church at 10 Elm Hill Road in Talcottville. The two hour hike is just under three miles. A short section of the trail is steep and bumpy so please wear sturdy sneakers or shoes. The hike is free and will be held rain or shine, but extreme weather cancels.
We expect a large turnout and some of the trail is narrow, so please leave your dogs at home.
---
Walter Woodward's Band Of Steady Habits
SUNDAY, SEPTEMBER 29, 1-3 p.m.: Join the Friends of Valley Falls for their Annual Meeting and a presentation by State Historian WALTER WOODWARD and The Band of Steady Habits, a group of six local musicians who combine their musical talent with their interest in the past to teach history through music and song.
The acoustic Band of Steady Habits came together in 2014 to share their love of music, and to use their talents to help create a new kind of public history presentation. The band uses banjo, guitars, violin, recorders, bass, percussion, and beautiful harmonies to perform songs – some old, some original, and some contemporary – to accompany the visually rich and evocative stories of State Historian Walt Woodward. The stories provide new insights and perspectives into Connecticut history.
A short business meeting will precede the talk. Learn about the Heritage Center planned for the Stable which will include displays on the many colorful owners of the farm including rifle designer Christian Sharps, a phony Hungarian Count, and the Beach Family, who ran the farm and park as a gentleman's farm in the early 20th Century.
Everyone is welcome and there will be refreshments. Meet in the basement of the Red Barn at Valley Falls Farm, 345 Valley Falls Road in Vernon.
---
Coming Up Later This Fall
Fall is a busy season with a large number of events; too many for one newsletter. We'll send another newsletter in late September with details on October and early November.
To receive the next newsletter Join our Mailing List.
October 5 - Vernon Conservation Commission's 'Riffle Bioassessment By Volunteers.'
October 6 - Manchester Land Conservation Trust's 'Stickney Hill Preserve Hike.'
October 19 - Strong Family Farm's 'Harvest Festival.'
October 20 - Northern CT Land Trust's 'Valley Falls Fall Foliage Hike.'
October 21 - Vernon Garden Club's 'Get the Biggest Bang From Your Floral Dollar.'
November 2 - New England Civil War Museum's 'Candlelight Tour.'