Tankerhoosen Newsletter - Early August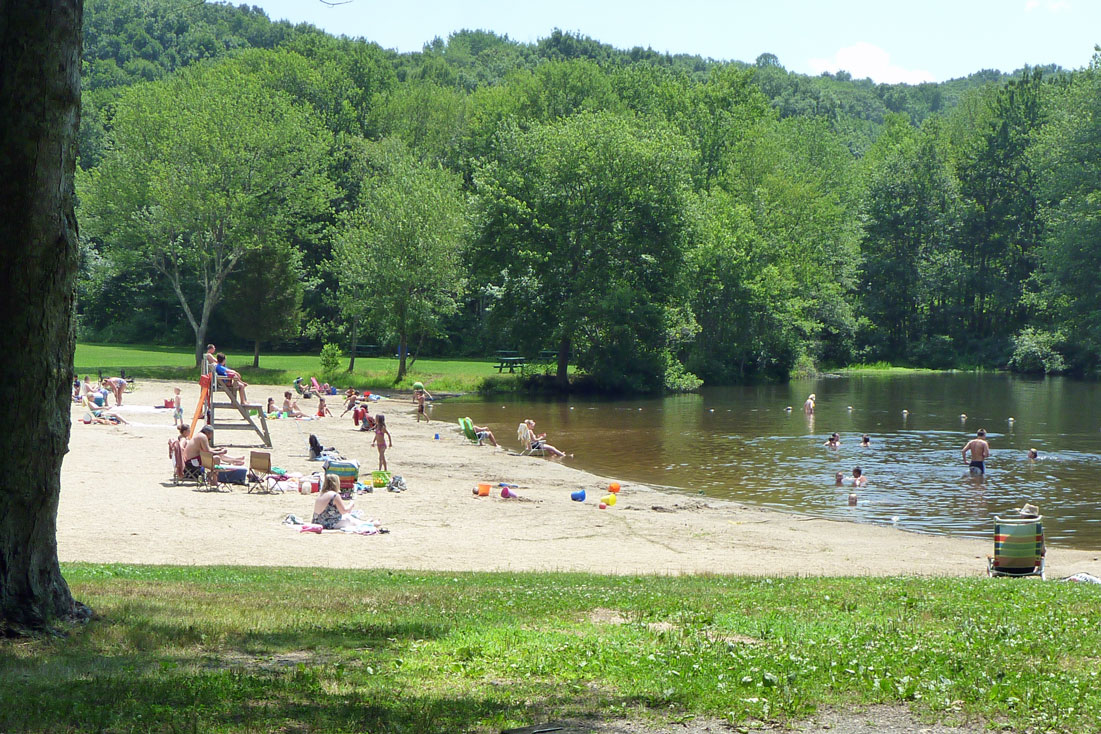 Valley Falls beach in a normal year.
During normal times these periodic emails let you know of upcoming events in Vernon, particularly in the Spring and Fall. But these aren't normal times and most events have been cancelled for the year or are virtual; so what to share with you?
One of the few good things about our Corona Holiday is that we are spending more time on Vernon's trails for exercise, outdoor activity, or to keep the kids busy and entertained. Having poked into most of the nooks and crannies of the Tankerhoosen Valley I may have found some interesting areas to explore or hike that are unknown to you. I'll share them here to give you new ideas.
While staying safely at home there has been time to research and write up pieces of Tankerhoosen Valley history that you might find interesting.
And while schools have been closed and some of town government shut down there are still some good things being accomplished. Not everyone reads the newspaper or receives local news online, so we'll include a little town news here.
Local organizations are beginning to open up and provide opportunities for you. Many are virtual, but a few experiential events are beginning to happen too.
So, in what will be at least a monthly newsletter for a time, we'll combine a little history, a little town news, a few events, new places to explore and anything else that might help add some color to your life.
If you would like advanced notice by email of events please join our MeetUp Group. We send reminders of events on our Facebook Page. You will also find upcoming events listed on the Vernon Volunteers Collaborative website under the 'Events' tab.
Click on the images for larger pictures.
Jon Roe   
» Go to The Tankerhoosen website.
---
Events: Vernon Volunteers Collaborative (Mostly Virtual)
The usual busy Spring, Summer and Fall seasons of the members of the Vernon Volunteers Collaborative (VVC) have pretty much been cancelled for 2020. However, a few events are taking place and some of their organizations have gotten creative with online programs and performances.
Vernon Historical Society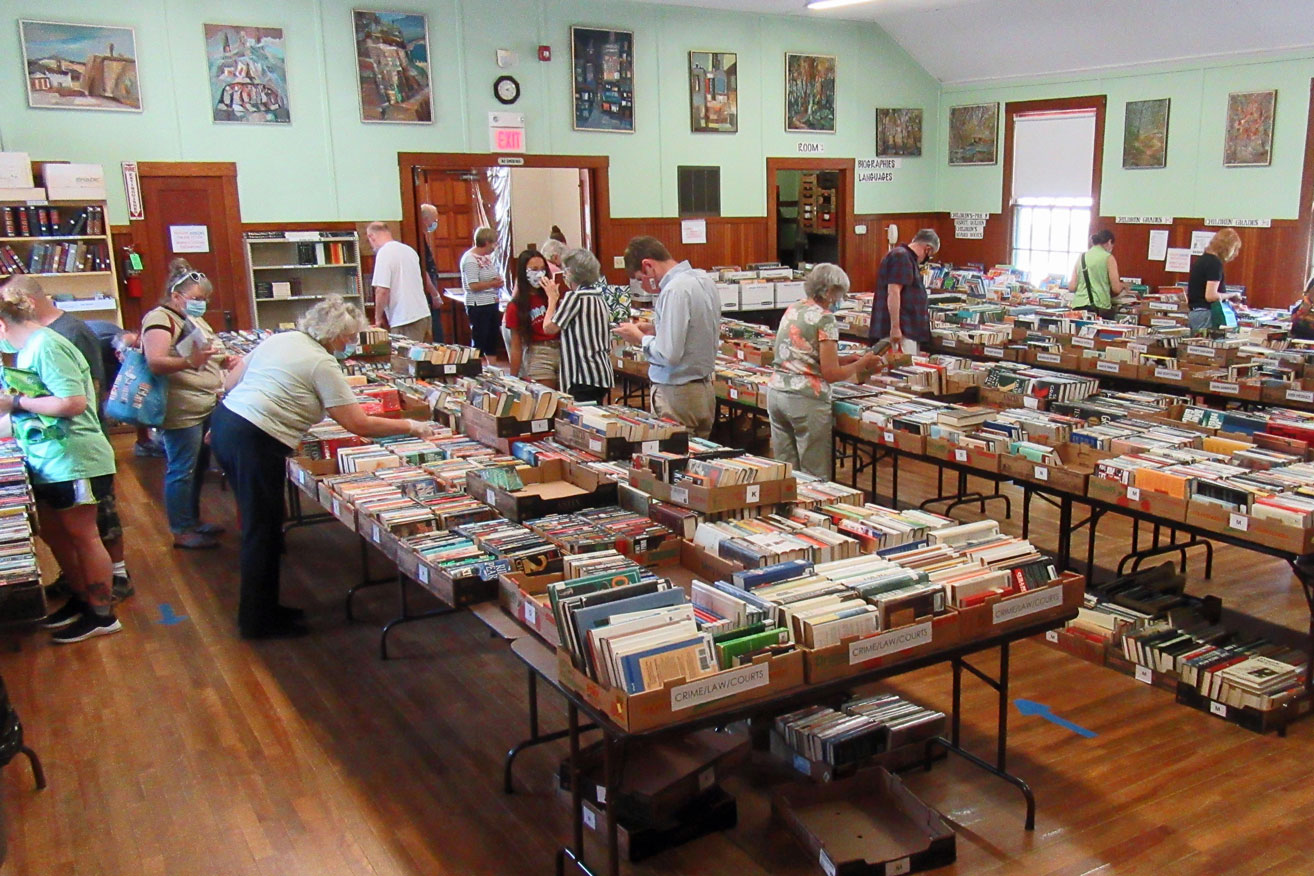 Socially distanced book browsing.
The annual Vernon Historical Society Book Sale was postponed from the end of April to the end of June. As there is still a good selection of books remaining they will be open for one last weekend on August 1 & 2 from 10-3 p.m. All books will be half priced.
The annual Book Sale features a wide selection of used hardcover and paperback books, DVDs and books on CD. All of the hardcover and paperback fiction is alphabetized by the author's last name. Non-fiction books are separated by subject categories.
The Vernon Historical Society (VHS) is located at 734 Hartford Turnpike (Route 30) in Vernon. It is handicapped accessible.
This year Connecticut Open House Day went virtual. For the event JEAN LUDDY prepared a 4 minute video on local artist GUSTAVE HOFFMAN. You can view it on YouTube.
And the research room will reopen to the public by appointment in early August.
The Vernon Chorale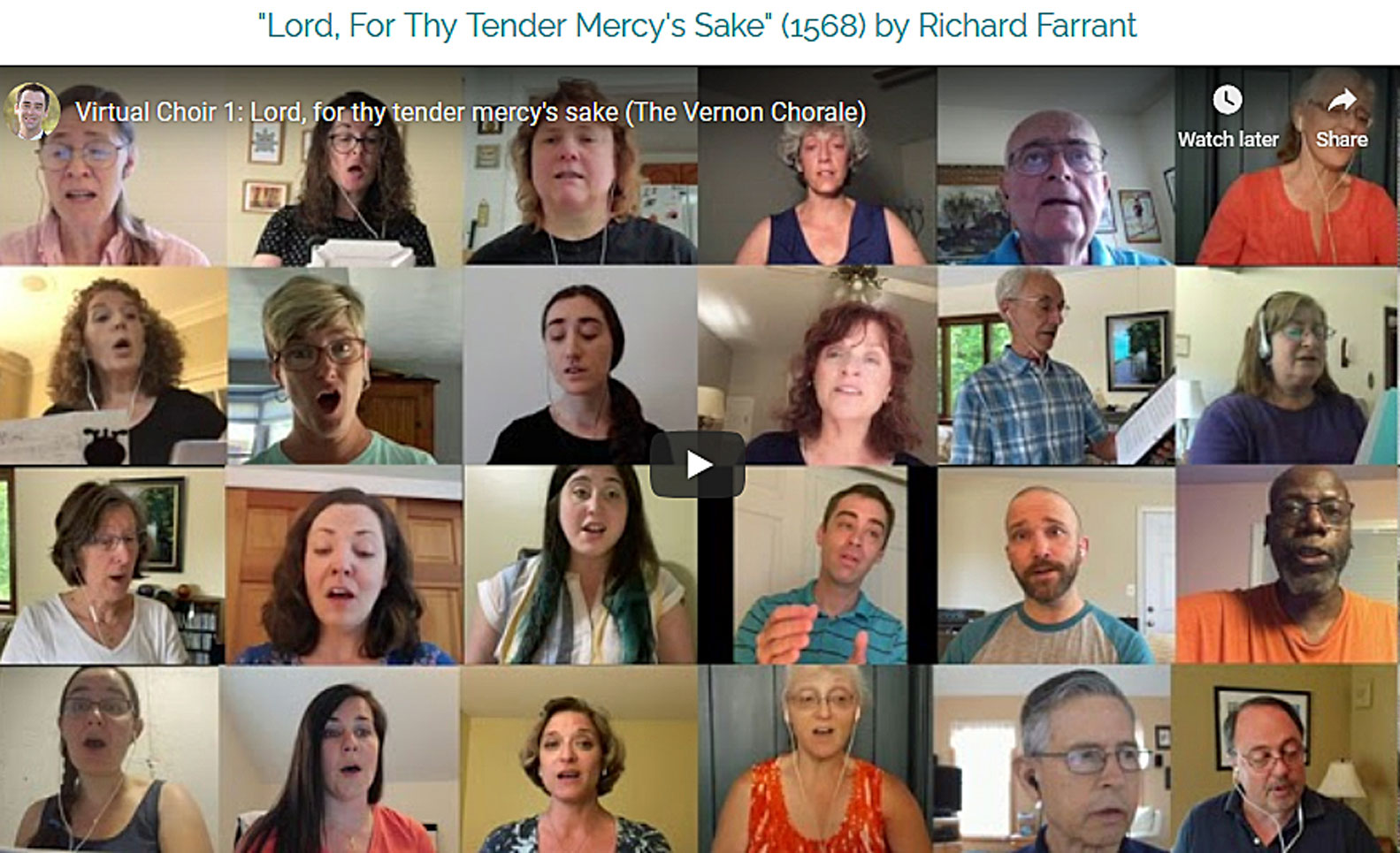 The Vernon Chorale's Zoom choir.
The Vernon Chorale had to cancel its three concerts for the year. However they have been experimenting with using Zoom to practice and record. Their first experience has just been released and is available on YouTube.
Choir member CINDY TRENHOLM described the process: "We all recorded separately. Our conductor recorded himself conducting the piece, our accompanist recorded a track of the song watching our conductor, and each singer listened through headphones and sang while watching our conductor and recording us singing on our phones. And yes, each singer had to send their recording to the person (a member of the chorale) who synchronized the audio, THEN our conductor synchronized the video to the audio. Quite a process."
They are planning to do at least one more in the fall using professional technicians.
» Enjoy their first three minute recording.
Strong Family Farm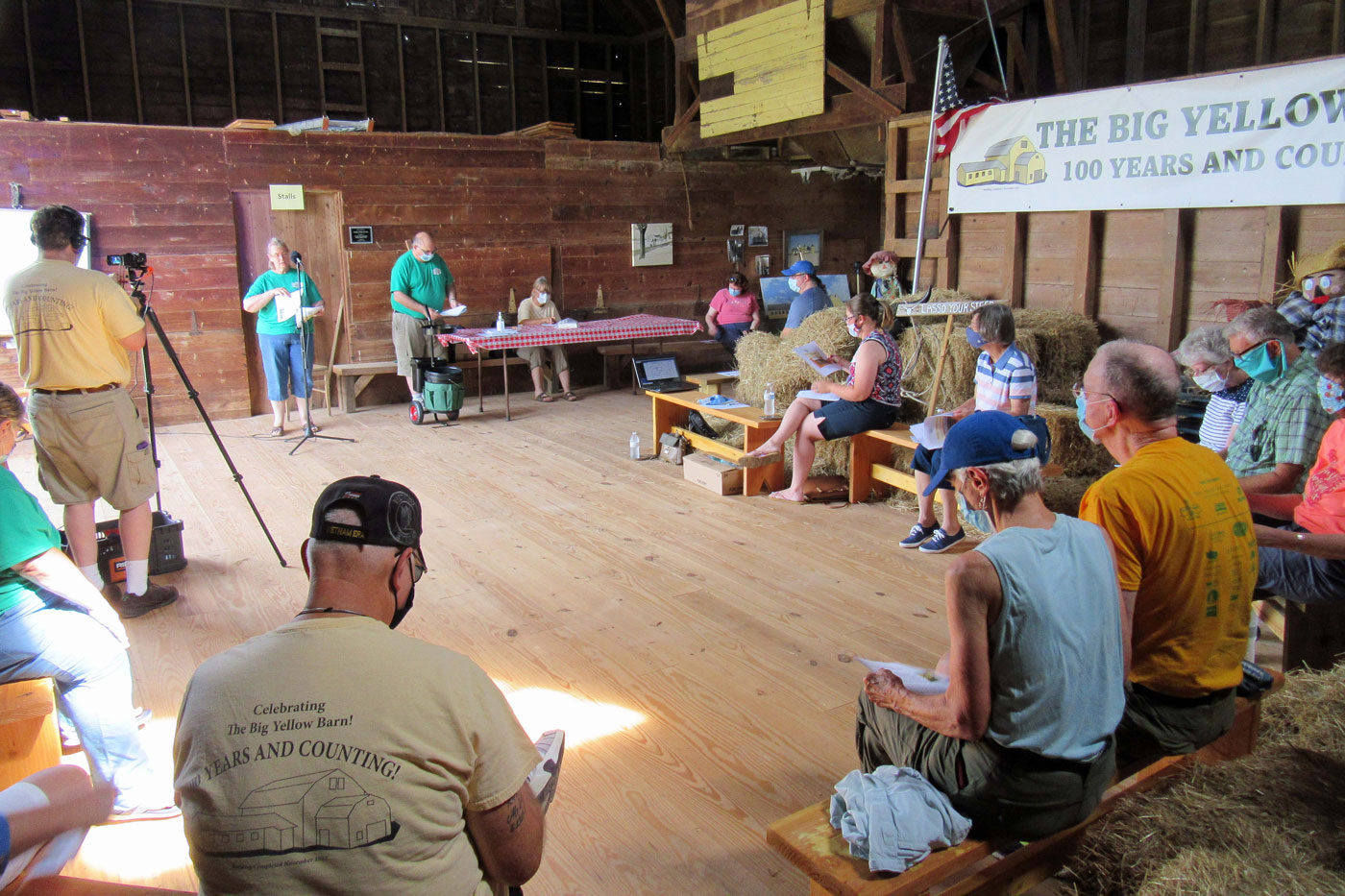 Strong Farm's Covid 19 annual meeting.
Strong Family Farm held their annual meeting on July 26 - a curious mix of people with masks social distancing on bales of hay and others online via Zoom or by phone. Such are the times.
They have had to adapt to a constantly shifting set of rules - cancelling some events and postponing others. But it is a farm, and as farmers have done since farming began they find ways to keep going in hard times. Some examples:
The April Chicken Run morphed into a virtual Chicken Run in June. Sponsors stuck by them so it was a financial success and encouraged people to get outside and participate in their own way.
The Farm Store opened June 17 and even with some limitations is doing well as people more than ever want fresh local food.
Volunteers continue to come out to help even though there are no formal Volunteer Days.
The Backyard Chicken Program for children continues with a few modifications.
The 16 Raised Bed Gardens are fully utilized.
A number of in-person programs may still happen this year and thanks to gifts and grants repairs and improvements continue to take place.
The Connecticut Land Trust Council has this Summer been celebrating conservation success stories from around the state. Recently they held a Zoom program with Strong Family Farm. It included a short video on the history of the farm and acquisition of Meetinghouse Hill. The full Zoom session included NANCY STRONG, ANN LETENDRE, MIKE & PHYLLIS WINKLER, KARL HASEL and AMY PATERSON among others. MAYOR CHAMPAGNE took part by phone.
View the 4 minute video on Strong Farm.
View the full 1 hour Zoom session.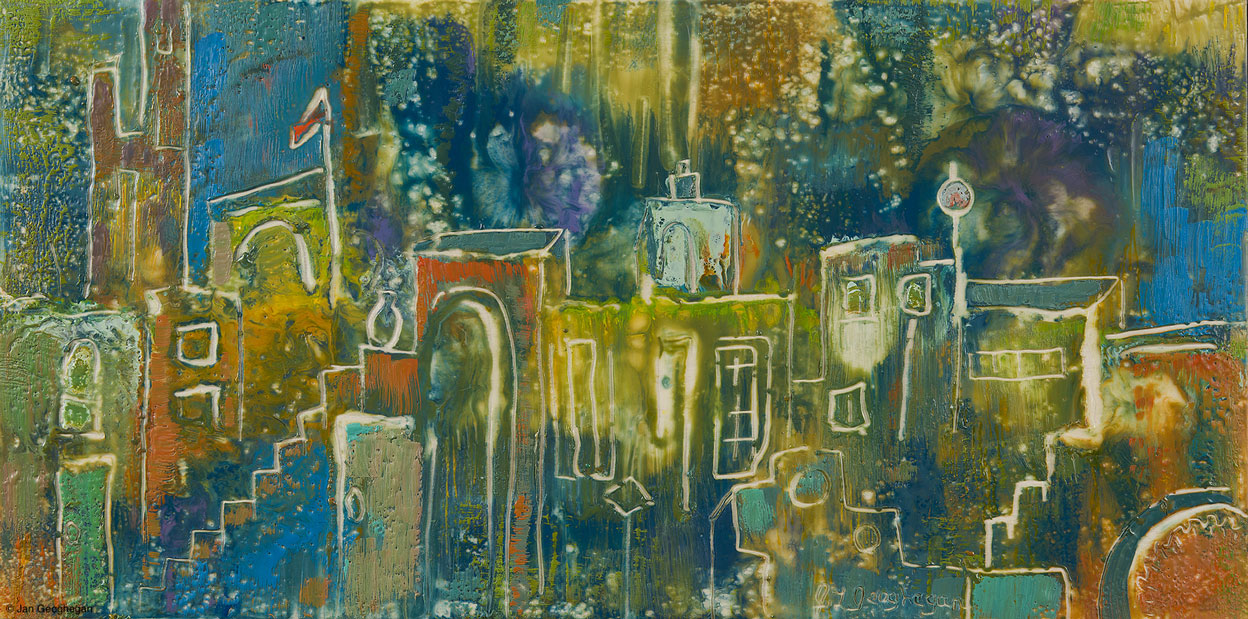 Almost There by Jan Geoghegan.
Arts Center East
Due to the COVID-19 situation and precautions being taken by the Town of Vernon and the State of Connecticut, Arts Center East (ACE) is temporarily closed to the public. However they have been creatively presenting virtual exhibits and online classes.
The new show for Summer is titled 'Flora & Fauna' immortalizing all that is alive and in bloom around the world and in our own backyards. The exhibit is designed to show off the color and complexity found in the natural world year-round and runs from July 19 through August 15. The online show allows you to page through the exhibits.
As part of the 'Flora & Fauna' show ACE added a Virtual Craft Fair where you can purchase items online.
Another unique exhibit is a combination of Art and Poetry. This exhibit is a collaboration between ACE Artist Members, Vernon's Poet Laureate, PEGI DEITZ SHEA, and Rockville High School Students, led by VICTORIA NORDLUND, whose creative writers have won more than 100 regional and national awards each year for the past four years. Be sure to view the introductory video to understand the background and purpose of this exhibit.
Go to 'Ekphrastic Extravaganza: Art & Poetry'.
Arts Center East plans to reopen to the public in September with a limited hours exhibit, 'Coping: Responding through Art.'
---
History: The Great Forest Fire of 1892
From the April 28, 1892 Rockville Journal: "One of the largest forest fires that ever afflicted this section is now raging in the Walker's reservoir region. It started Tuesday afternoon and spread rapidly, defying the efforts of half a hundred men to stop it. It is estimated that 600 acres have been burned over, and the fire is still beyond control, and eating its way like a fiery cancer into the vitals of valuable woodland."
The fire took place roughly between Hartford Turnpike and Reservoir Road. The story is a window into the challenges of fire 120 years ago and how it was fought outside Rockville before the suburbs had their own fire department.
» Read about 'The greatest forest fire ever known in this section.'
---
Town News: Saxony Dog Park Opens
The Saxony Dog Park on West Street was formally opened with a ribbon cutting ceremony on July 13.
The dog park is located where the Saxony Mill once stood, a site along the Hockanum River that has been owned by the town for several years and was frequented mainly by hikers. The dog park includes separate fenced-in areas for dogs weighing more than or less than 20 pounds, and has several obstacles and hydrants, as well as a drinking fountain for both dogs and their owners.
The effort to make this happen was a combination of citizens, town government and private industry working together.
» Read the Vernon Patch story and view more photos.
---
Recreation: An Outdoor Guide To The Tankerhoosen Valley
It's nice to see so many people and families using our trails this year. Vernon is blessed with over 35 miles of trails so even if we can't take part in indoor activities we have plenty of variety outdoors. The Hop River Trail is wonderful, but if you are ready for something different there is much more.
Although the Tankerhoosen River is only a little over five miles long the history, scenery, trail system and parks are unique in the way they are connected. Other towns in the area have wonderful parks and a rich history, but in none are they connected as they are in Vernon; and the Tankerhoosen River is the connector. Here you can hike, bike, swim, picnic, fish and visit outdoor museums without leaving the Greenway.
Large sections are owned and preserved by the Connecticut Department of Energy & Environmental Protection, while other tracts are properties of the Northern Connecticut Land Trust or owned by the Town of Vernon. Exploring the area will bring you to natural features, historical sites and garden delights. Even long time residents are often surprised by the richness and variety of the area.
Our brochure should give you a better understanding and appreciation of what we have and help you explore all that the Valley offers. It highlights a sampling of twelve locations from the headwaters of the Tankerhoosen River to its merger with the Hockanum River. The selected sites are connected south to north by the Shenipsit Trail and east to west by the Hop River Rail Trail. There are places to hike, bike, swim, fish, hunt or explore our 300 year history.
Since most of our public buildings are closed the only location you can pick up a free copy of the brochure is at the Strong Family Farm's farm stand.
» You can download the brochure from our website.
» Or read about the 12 locations.
The Corona Holiday has a plus side. You have time to explore parts of the valley you didn't know existed.
---
And Finally: Thank You Vernon Greenways Volunteers
In this time when we are using the trails more than ever - a huge "THANK YOU" to DON BELLINGHAM and all the Vernon Greenways Volunteers who continue to maintain the plantings, pick up trash, repair washouts, weed wack growth and all the other things we take for granted when we use the trails.
» Learn more about what the Vernon Greenways Volunteers do for us.