The Missing Gravestone Of David Allis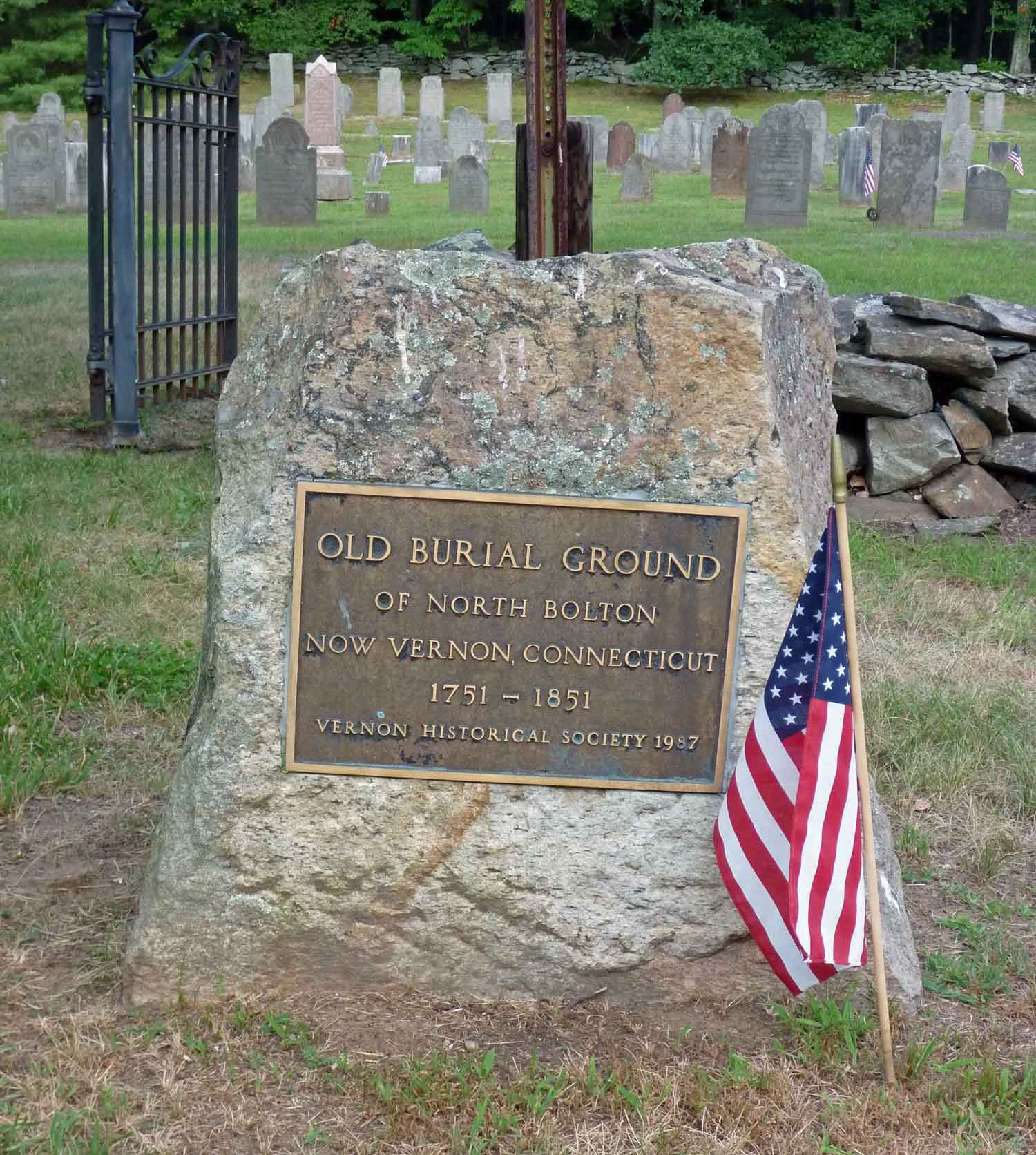 Click on images to enlarge.
Nathaniel Allis (1685-1751) was one of Bolton's earliest settlers, a grandson of William Allis who came to America in 1630.
When Bolton was founded in 1720 Nathaniel was already farming here and was recognized as one of the original proprietors. As such he took part in the first land distribution of 100 acre Homelots. His farm was in North Bolton on today's Vernon-Bolton line, just west of the Great Swamp (now Lower Bolton Lake).
Over the next 30 years Nathaniel accumulated more land from land divisions, as well as purchases from other landowners along the eastern side of North Bolton and near Tankaroosen Brook (now Tankerhoosen River).
In Bolton's early years there was no separation of church and state. Property owners accepted a variety of roles in their local church and government. Nathaniel was no exception and his name appears frequently in the records of town petitions and meetings.
Large families were important to farmers as infant mortality was high and sons were needed to help manage the farms. Nathaniel and his wife Mercy had 12 children, including 6 sons.
His fourth son David Allis was born in Bolton in 1720, the same year the town was founded. He remained on the farm until he was married in 1741. Nathaniel helped his sons begin to build their own farms, but all except David moved out of town to more favorable locations. In 1744 David bought a parcel of land from his brother Jonathan on the corner of today's Reservoir and Baker Roads where he built his own dwelling house and raised his family.
Picturesque graveyard on Bamforth Road is the
burial ground of North Bolton's earliest settlers.


At about this same time David built first a saw mill and then a grist mill near his house, just below today's Fish and Game Road. Although there were other sawmills in the area, including the John's saw mill at Valley Falls, this seems to have been the first grist mill in this part of town. In an agricultural community there were few opportunities to earn hard cash so that a miller, who might trade for his services, could sell excess flour in Hartford. So David was probably one of the wealthiest men in North Bolton.


In 1751 Nathaniel died and his property was left to David, who paid his siblings their share in cash from the sale of Nathaniel's 100 acre Homelot.

David, as did his father, felt a responsibility to town and church and was involved in the affairs of the day. His name is mentioned frequently in town records. His most important contributions involved the creation of the North Bolton Parish, building the Meeting House, and hiring and helping the first minister, Rev. Ebenezer Kellogg, get established.

The farmers of North Bolton applied several times to the Colonial Government for a separate parish. The primary reason was the long distance they had to travel over poor roads to church each Sunday. There were politics and negotiations involved as South Bolton opposed the new parish while North Bolton lacked the required number of families. David was one of those central to the negotiations. Planning meetings and early church services were held in his home. In the fall of 1762 Rev. Ebenezer Kellogg was hired and in early 1763 David sold him four parcels of land on Bamforth Road near the church where Rev. Kellogg would build his home and farm.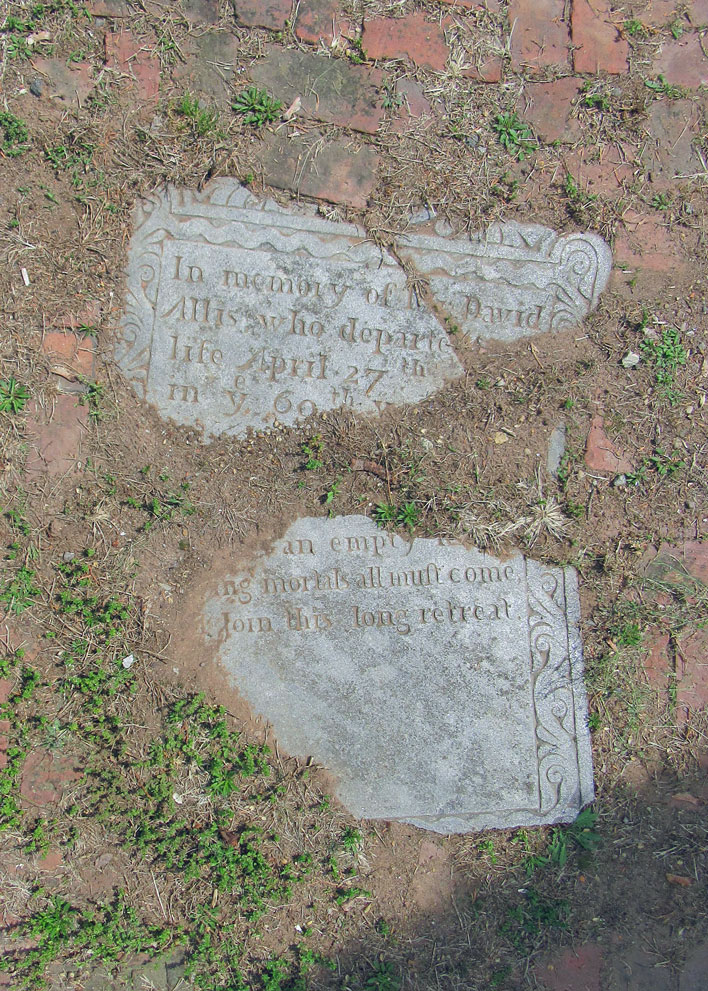 David's gravestone in the
Vernon Center patio.
A few years later as the Revolution approached Allis' grist mill was the North Bolton site where notices and updates were posted.
David had six children - all daughters. This meant help on the farm had to come from hired or tenant farmers and at times he leased the mills to others. It also meant the farm and his extensive properties would be divided at his death.
David died in 1789 at the age of 68. At the time the only cemetery in the parish was the North Bolton Burying Ground on Bamforth Road, established in 1751 and closed in 1851. David's first wife Sarah died 8 years earlier in 1781 and was buried next to David's step mother Elisabeth. David was buried alongside them and as the last male Allis in the Parish the family name became lost to memory.
As a wealthy man the three gravestones had elaborate carvings. David's reads:
In memory of Mr. David
Allis, who departed this
Life, April 27th, 1789
In ye 69th Year of his Life

Death leaves a melancholy gloom
It makes an empty seat.
Ye living mortals all must come,
And join this long retreat.

And there his stone stood for the next 150 years, the only reminder that he ever lived in the community.
And then it was gone.
During the 1930's one of the Depression era Works Progress Administration (WPA) projects was recording gravestones in the old graveyards of Connecticut. At the time David's inscription was also recorded. Sometime after that the stone went missing, although likely no one noticed.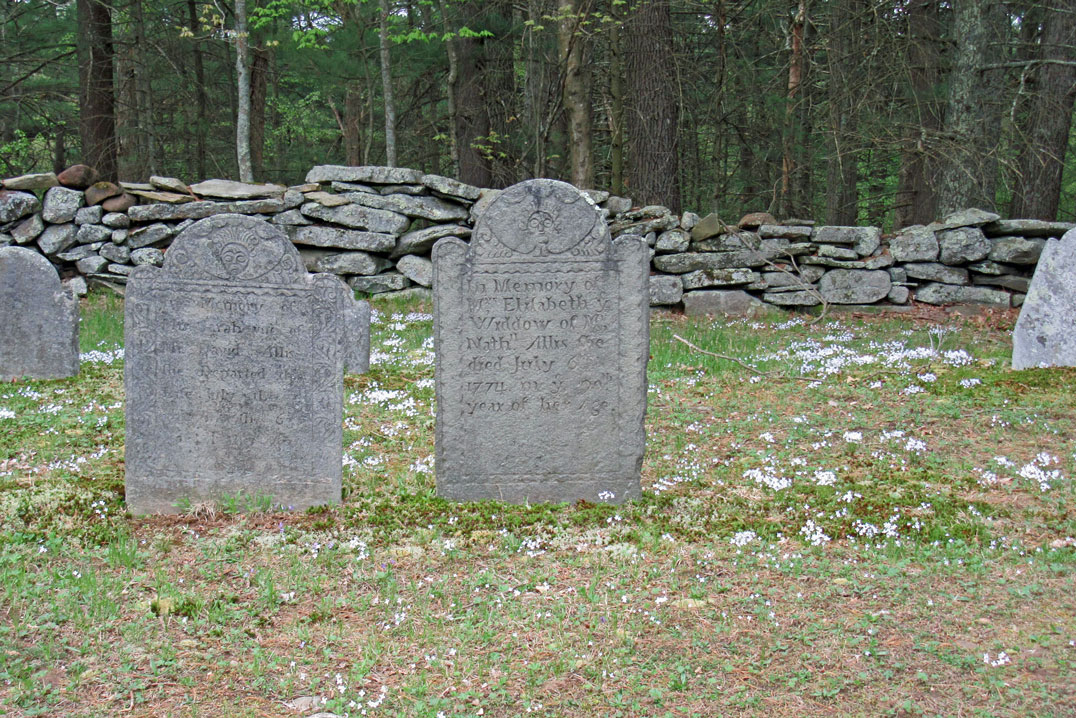 The gravestones of David's first wife & step
mother. David's stone was to their right.
In September 2017 the Vernon Historical Society organized a history tour of Vernon Center, which included a visit to Meetinghouse Hill, a stop at Elmwood Cemetery and concluded at the First Congregational Church. At the church we were approached by a neighbor who told us that when she bought the house she discovered David Allis' broken gravestone in an old patio behind her Vernon Center house. She made efforts through the years to find a funding source to return Allis' gravestone to it's rightful place, but without success. The stone was known to people who grew up in the area, but they didn't realize its significance.
This summer the Vernon Cemetery Commission removed the stone from the backyard. Too damaged to restore for use the Cemetery Commission had a gravestone restoration expert estimate the cost to replace the stone with the same design and inscription as the original. $7,000 is now being raised to duplicate the stone and also to preserve the original.
If all goes well David Allis' new stone will be installed in the Old North Bolton Burying Ground next to his family in 2020 as part of Bolton's 300th Anniversary Celebration. A timely ceremony and memorial to one of the founding families of Bolton.